ALEXANDER TECHNIQUE
The Alexander Technique was established in the 1890's and is an important addition to a person's resources of self-awareness, personal education and development.
It is valued in educational, theatrical and musical circles as a method of improving performance, by encouraging improved physical and psychological functioning – which leads to benefits in co-ordination, general health and well-being.
The Alexander Technique teaches us how to improve the way we use ourselves in our everyday activities. Stress and tension and other stimuli from modern day living cause us to react often by over-tensing or collapsing. This eventually leads us to acquire bad habits that distort the body and interfere with its normal functioning, leading to aches, pains and tiredness.
It can be applied anywhere, and at any time: at home, working at the office, at school, performing on stage, during sports and leisure activities, and so on. Natural poise and balance become a way of life. Breathing and speaking become easier, movements become freer, lighter and more enjoyable.
Who Should Have Alexander Technique?
Alexander Technique is available to everyone, and many would benefit from the treatment.
It may be of benefit for all those wanting to improve their performance in all walks of life. It is just as useful for those who have to give presentations as part of their day to day work, or those involved in sports of any kind who want to improve their overall performance.
How Is It Done?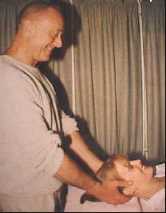 The Alexander Technique is taught at the Clinic by an experienced teacher, and you will learn about its principles and how to use the methods from day to day.
Each session lasts around 45 – 60 minutes. During this time you will be sitting comfortably in a chair, standing or lying on a flat couch. During this time the teacher will explain fully to you what is happening at all times. There is ample opportunity to ask as many questions as you need during the session.
How Effective is Alexander Technique?
The technique is very effective if it can be integrated into day to day functioning.
Of course, if you have a particular health condition, or particular needs, how you personally respond to the technique will vary. You may notice immediate results, although benefits will normally build up over a period of time, and weekly sessions are advisable initially.
Are There Any Adverse Effects?
Very rarely you may find that in response to the treatment you can develop symptoms that you have had months or sometimes years ago. These will be short-lived, and are a sure sign that the technique is working well.
Occasionally you may experience some stiffness or discomfort following a session, but these will quickly disappear, and will become less noticeable with each session.
How Much Does it Cost?
Acupuncture is available at Better Health Clinic, Chester, with an experienced teacher. Each session costs £35. A reduced rate may be applied if a course of treatment is pre-booked.
Further charges apply for any additional consultations, tests or treatments, and these will be discussed with you fully as necessary.
Don't forget however that we always offer a FREE INITIAL CONSULTATION.
© Better Health Limited 2002