MAGNETIC FIELD THERAPY
Magnetic Field Therapy (MF) is the use of a pulsating magnetic field to help heal tissues at a deep level.
Magnetic Field Therapy produces changes in the magnetic field of the tissues, which produces healing benefits, in addition to improving the blood flow to the local tissues.
The healing effect makes Magnetic Field Therapy useful in a number of tissues where the blood supply is particularly poor, such as tendons, ligaments and bone. Many studies have shown that bone fractures heal much quicker when treated with Magnetic Field Therapy.
This therapy is similar to, but not the same as, Electro-Magnetic Therapy. The two therapies may be used in conjunction with each other.
Who Should Have Magnetic Field Therapy?
Magnetic Field Therapy is available to most people, and many would benefit from the treatment.
Almost any health condition or symptom will benefit from MF treatment, and it is particularly suitable for
painful conditions, particularly musculoskeletal conditions affecting ligaments, tendons, bones, including arthritis, osteoporosis, sprains, and others
hormonal problems, including period pains
digestive symptoms, such as irritable bowel
sinus problems, including chronic sinusitis, hay fever
… and many others
How Is It Done?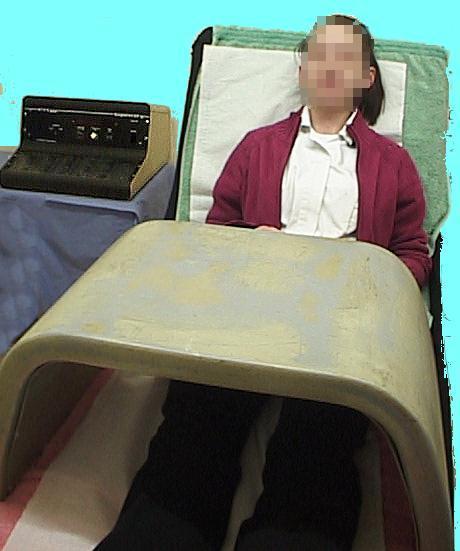 Following an initial assessment, a course of treatment will be recommended.
During each treatment, the magnetic field unit is placed over or around the affected area, for example the knees in this instance.
The unit settings will be decided by the practitioner, and this will vary the frequency of the magnetic field, the intensity and the length of treatment, which is usually 20 - 30 minutes.
Once the unit is started, you just sit comfortably whilst the treatment is administered.
Magnetic fields cannot be felt. It feels therefore as if nothing is happening. But the tissues will respond to the magnetic field produced, and this will stimulate the healing process.
How Effective is the Treatment?
The treatment is usually very effective. However, benefits are not usually felt immediately, but build up over a period of time, usually a number of weeks.
However, we have seen some patients - particularly with acute conditions such as sprains - respond with as few as 2 - 3 sessions only.
A course of Magnetic Field Therapy will usually last 6 - 12 weeks, with each weekly session lasting around 20 - 30 minutes. It may be beneficial early in the course of treatment to have 2 -3 sessions each week.
In our experience, we have seen certain conditions cleared completely within a 2 – 3 week period of Magnetic Field Therapy treatments, although results will normally take a little longer than this.
Specific advice regarding the expected duration of treatment and the likely results will be discussed with your practitioner during your treatment session.
Magnetic Field Therapy is often used in our Clinic in combination with Acupuncture, and both therapies together can be very beneficial for a number of conditions that may not respond to either treatment alone. It may also be combined with other therapies in this way.
Are There Any Adverse Effects?
There are very few if any immediate effects from Magnetic Field Therapy.
The magnetic field itself cannot be felt, there is no warmth or heat, although that may be provided by a cup of tea whilst you have your treatment!
How Much Does it Cost?
Magnetic Field Therapy is available at the Better Health Clinic, Chester, at £25 per session. There are reductions for treatment courses, for example three sessions per week only costs £55.
Further charges apply for any further consultations, tests or treatments, and these will be discussed with you fully as necessary.
Don't forget however that we always offer a FREE INITIAL CONSULTATION.
© Better Health Limited 2003