REFLEXOLOGY
Reflexology is a system of therapy that utilises the feet - or occasionally the hands - to benefit the whole body.
Although Reflexology is growing in popularity - you only have to look at the number of Reflexology practitioners in your area to realise that - it is not often used to its full potential.
Reflexology is often used as a 'relaxing foot massage' according to one experienced Reflexologist. There is much more to a reflexology treatment than relaxation.
Reflexology points are distributed on the foot (and the hand) and they represent or reflect the various body organs, glands, and so on. These points are stimulated by pressure or massage, which produces effects upon these organs, glands, etc..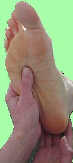 A course of reflexology will usually last 8 - 12 weeks, with each weekly session lasting around 60 minutes. Following this, the progress may be maintained by less frequent treatments, every 4 - 6 weeks.
For further information about Reflexology, please contact us by following the link opposite.