ELECTRO-MAGNETIC THERAPY
Electro-magnetic Therapy is the use of a pulsating electro-magnetic field produced by a device called the 'Empulse.'
The Empulse device is programmed individually, based on an analysis that is initially carried out, looking at brain wave frequencies. It is found that in certain conditions, certain brain wave frequencies are deficient. The Empulse device is then programmed to produce these frequencies. The device is merely carried by the person, either in a pocket or on a chain around the neck, etc..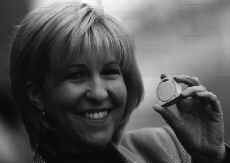 Who Should Have Electro-Magnetic Therapy?
The conditions mostly helped by the Empulse include:
chronic fatigue
migraine
multiple sclerosis.
Most conditions affected by, or affecting the brain or nerves in some way should benefit, such as Parkinson's, anxiety, depression, sleep problems, and so on. It can also help with painful conditions such as arthritis.
How Is It Done?
During the first consultation - which takes around 30 minutes - a brain wave analysis is carried out. A special headset - similar to headphones - is placed on the head, and a reading is taken by the computerised equipment.
The analysis is shown as a graph showing the relative amount of different brain wave frequencies produced. The frequencies that are not produced as much as they should are highlighted.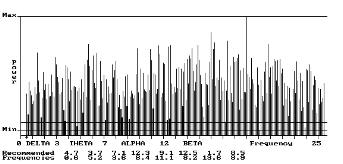 The Empulse is then programmed to produce these frequencies, to replace those frequencies that the brain is not producing enough of.
The patient then carries the Empulse device within an inch of their body. The weak pulsed electro-magnetic fields are picked up in some way by the body, and it responds.
The Empulse may need to be re-programmed a number of times over a 12 week period, before the final setting is found. Follow-up appointments for an analysis and re-setting of the device are carried out fortnightly or after longer periods.
How Effective is the Treatment?
The treatment is usually very effective, but it does take time to build up its effect.
The time taken will vary from person to person, but you should expect to see some changes within the first few weeks. It will take longer to see lasting improvements, and you should realistically allow 10 - 12 weeks to assess the effectiveness of the treatment adequately.
Specific advice regarding the expected duration of treatment and the likely results will be discussed with your practitioner during your treatment session.
Are There Any Adverse Effects?
Occasionally some people are more sensitive to the Empulse device than others. Some people may experience dizziness or light-headedness in the first few days of using the Empulse. Many have vivid dreams initially.
Usually these effects are short-lived, lasting only a few days, but occasionally may last for up to a week or two.
It is very rare to experience adverse effects after this initial two week period.
How Much Does it Cost?
The initial consultation, analysis and programming of the Empulse device costs £50, which includes one follow-up consultation.
Subsequent consultations are £25.
There is a charge also for the Empulse device itself, which costs £99.99 to purchase.
However, it is possible to rent initially, at £15 per month. We recommend a minimum 3 months rental, and thus the initial fee would be £50 + £45 (three months' rental).
After three months (or earlier or later) it is possible to purchase the Empulse device, and £10 of each month's rental will be deducted from the purchase cost.
Further charges apply for any further consultations, tests or treatments, and these will be discussed with you fully as necessary.
Don't forget however that we always offer a FREE INITIAL CONSULTATION.
© Better Health Limited 2003
Please note that Electro-Magnetic Therapy may not be available at the various Clinics that we visit or have links with.