![endif]-->
Emailing The Classics Pages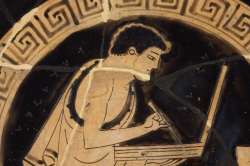 The Classics Pages have been online for a long time (since 1994), and the original email address is no longer secure. It brings me a considerable number of unwanted spam messages every day! As I don't want to discourage the genuine users of the site, would you please use this address when writing to me:
classics at andywilson dot org
If you are a human, you will know how to make sense of this. If you are a machine looking for addresses to pillage, tough! Anything sent to any other address will be assumed to be spam and deleted.
I shall continue to provide the service which I've been doing since the mid nineties - please feel free to write about anything connected with the ancient world of Greece and Rome.
You can read a selection of emails I've received over the years, with my replies, here.