It just amused me, the idea that wizards would still be using Latin as a living language, although it is, as scholars of Latin will know ... I take great liberties with the language for spells. I see it as a kind of mutation that the wizards are using." [CBC October 2000] (see also my news item November 2001)
[Ironically, I became another of the few to find a practical use for a classics degree when I was called upon to translate JKR's Harry Potter and the Philosopher's Stone into Ancient Greek. (see Greek Harry Potter pages)]
Be top UK recording artist and sell 10 million copies of your first album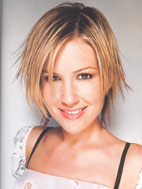 No, not Robbie Williams, certainly not Geri Halliwell, nor any ex-Spice Girl. The UK's most successful export in 2000-2001 has been the quintessential girl-next-door, who found success via her theme song for Roswell High (Here with me), and her plaintive counterpoint (extracts from Thankyou) to Eminem in last year's fantastic hit Stan. She is Dido Florian Cloud de Bounevialle Armstrong - or just plain Dido! Educated at the City of London Girls' School, she has 5 A Levels including Latin, Greek and Philosophy. [Vogue, December, 2001]
Win £250,000 for a mate
That's what a knowledge of Latin did for Old Harrovian Noel Diancono. The quiz show "Who Wants to be a Millionaire" promises £1,000,000 if you can answer 15 general knowledge questions in a row. But you don't have to rely on your own brains - for one question you can "phone a friend" - which is what contestant Jonathan Green did on question 13: "What creatures live in a formicary?" His classically educated friend on the end of the phone-line was immediately able to state it held ants, and not bees, fish or worms. Unfortunately Mr Green bottled it on question 13 (a simple question about the wives of Henry VIII) - and ended up with a mere quarter of a million. [Guardian, September 6, 1999]
Become a police sergeant
Interview in the Daily Telegraph (4 September 1999): Did you always want to join the police force? "Good god no! I'm as atypical a bobby as can be - private prep school, public school and a degree in Classics from Manchester University. I was down the pub one night, still trying to decide on a career, when a prolific burglar (I've found that out since) laughingly suggested I should join the police. It sowed a seed and after a four-hour chat with the chief recruiting officer of Greater Manchester Police, I signed up at 22. I've been happy ever since [now aged 43]."
Found on a school blackboard after a first Latin lesson with a Year 8 group, September 1998
"Latin is the first subject we do in life entirely for its own sake. A degree at university in Classics leads to almost any job in the world. It gives one a disinterestedness in the study of any subject. Disinterestedness is NOT being uninterested. Quite the opposite: it is a love of studying without any practical result intended - and it gives the soul a peace, an inner control, a quiet joy beyond words." (Christopher Nicholson)
Wow! Well worth looking at the originals: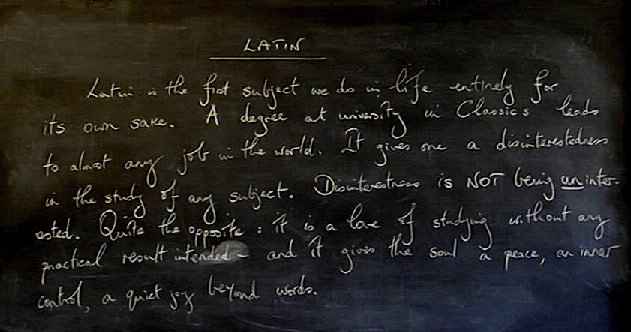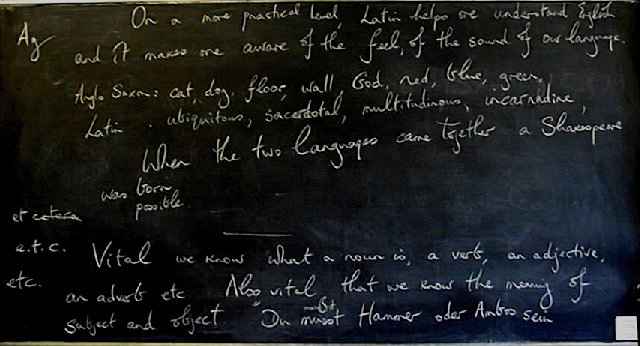 See further, my reply to one who has studied these images very closely!
Find a cure for Alzheimer's?
Dr Elizabeth Lazenby has been translating ancient texts on herbs for the Medicinal Plant Research Centre at the University of Newcastle. Its director, Professor Elaine Perry is convinced that the secrets of the traditional methods for treating memory disorders may lurk undetected in ancient Latin herbal writings: which is where Dr Lazenby comes in - the collaboration has already identified two plants, sage and balm, which seem to have neurochemical effects simailar to drugs used to treat Alzheimer's disease. (See Independent on Sunday, 7 June 1998)
Marry Reggie Kray?
According to the Guardian (March 1998), waiting for Britain's most notorious criminal (jailed 30 years ago for life for the slaying of Jack "The Hat" McVitie in the Blind Beggar, Whitechapel) is a quiet Classics graduate, whose preferred reading is Thucydides and Tacitus, Homer and Sophocles. Roberta Jones married him last July in the prison chapel. Perhaps the House of Kray is rather tame compared with the House of Atreus?
Marry Inspector Morse?
The crime writer Colin Dexter, former Classics Teacher (Corby Grammar School, Loughborough Grammar School) and Chief Examiner in Classics will be marrying off his alter ego Chief Inspector Endeavour Morse in the last ever TV adaptation, to be shown on UK TV at Christmas 1998 (March 1998).
Perform Stand-up at the Vatican?
British comedian and transvestite Eddie Izzard, who has been flaunting his bilingualism in France recently with extended versions of his famous "mon singe est dans l'arbre" routine, has revealed that he also studied Latin and school, and that we must not rule out a "Quintus est in atrio" sketch for the Pope. (October 1997)
Become a successful smuggler?
An Agency report quoted in the Guardian on 21st Feb 1997 said that people have been fooling customs officers in Sweden by giving the Latin name for items they were importing - banned coral being the example given. Doubt whether this would work with cannabis sativa!
Run Cosa Nostra?
"Following the recent arrest of Mafia boss Giovanni Brusca, the names of two strikingly different men rose to the top of the Italian state's most wanted list. The first is Pietro Aglieri, the very model of a modern mafioso. At school, he had a classical education, studying Greek, Latin, philosophy, history and literature to a level and standard that guaranteed him entry to university. Instead he opted for a career in Cosa Nostra." John Hooper in The Guardian Tuesday June 4 1996
Avoid the bullies?
A correspondent in The Times on Friday May 31st 1996, described how he avoided bullying at school by bribing a pair of large and dangerous boys to protect him in return for doing their Latin prep. Once again Classics solves the great problems of existence!