![endif]-->
Sicily
A personal guide to Sicily
"The America of the ancient world"
These pages give my personal guide to places to visit in Sicily - most towns and villages have an entry - which will include photographs, details of the place and my recommendations of what to see, and sometimes where to stay or eat. I've obviously focused on the Greek and Roman sites, but the Guide includes discussion of much that's happened more recently - from the Arabs and Normans up to the Mafia.
There are three ways to use the website:
Using a map to select places you're interested in. Some of the places marked on the map don't (yet) have an entry. Map of Sicily.


Select from a list of places to visit (includes one or two places too small or obscure to find on the map!) Gazetteer of Sicily


Take my personal tour, which will take you round the coast in a clockwise direction, starting at Messina. Click on the "next" icon for the next stage of the tour. Personal Tour of Sicily.
Whichever you choose, I guarantee to surprise you with some out-of-the-way places well away from the normal tourist routes - as well as showing you my personal take on the highspots.
The thumbnails will enlarge when clicked on.
There's also the slide show - which has been on the website for many years - which gives a brief taste of the sites at Agrigento, Selinunte and Segesta. Sicily Slide Show.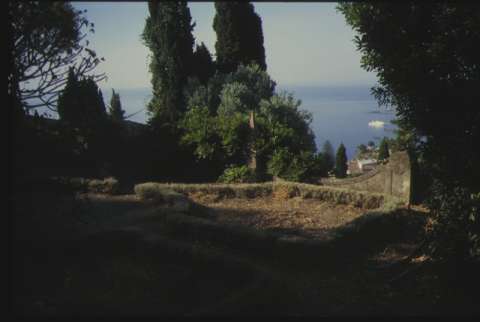 View towards Giardini-Naxos from the upper garden of Casa Cuseni, Taormina, where I was based for several months.