Maecenas, still patronising after all these years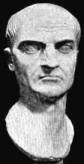 Colin Tweedy, chief executive of Arts and Business, hopes to find an extra £140m for the arts by enlisting donors in a scheme that rewards them with a modest lapel pin with the head of Maecenas, now proclaimed the founding father of giving to the arts by Arts and Business.
"The idea of Maecenas is to change the culture, to make people - individuals and businesses - proud of giving to the arts, to make them boast about it, to make them feel loved and valued in return. The money is there, we just have to extract it. We have to teach people how to give, and teach arts organisations how to ask."
A closer study of the Augustan period might have revealed that Maecenas was truly the patron of Spin Doctors rather than the arts - he recruited the top figures from popular culture and bribed them to celebrate the regime. But Horace and Virgil were clever enough to include their own agenda while apparently toeing the line. [Guardian 1 March 2004]