Sappho
Poet of fire
Fragments of Sappho's poetry
"The Isles of Greece, the Isles of Greece, where burning Sappho loved and wrote
The hymns we hardly like to quote" (parody of Byron)
She was a Lesbian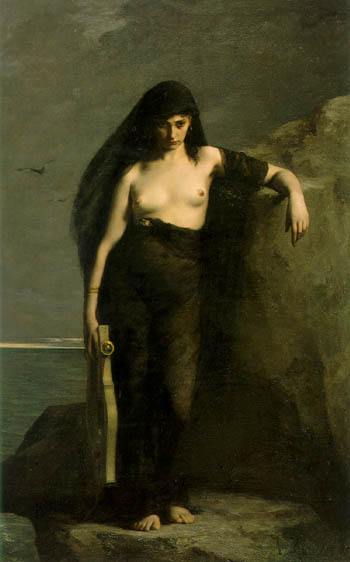 Let's say at the start that the least interesting thing about Sappho (or Psappho as she preferred to be known) was the one that preoccupied later Greeks, Romans and most of those today who couldn't read a line of her poetry, and for whom she exists merely a brand. Let it suffice that she was a Lesbian because she came from Lesbos, and that "sapphic" was one of her innovatory metres.
Broken pieces
Two complete poems survive out of nine books. Of the rest only fragments exist - broken sherds of poems as tantalising as pieces of broken pottery. And, like a fragment of a vase (which is physically indestructible), her fragments are strong, with that "fresh as the day they were made" appeal. (Remember the Greek word we translate as poet means simply "maker".) Curiously enough, one of her longer fragments is actually preserved on a pocket-sized piece of broken pottery: an Egyptian fan had copied it out, presumably to carry around with him/her.
The tiny pieces of debris we have are enough to show that her poems were personal to her, and were about feelings. Something that many people might assume is too obvious - surely that's what all poetry is? But few ancients followed her lead - even those like Catullus and Horace who copied her metres produced work that was polished to impress friends and patrons with their artistry rather than their passion. Lyric poetry in the ancient world - apart from Sappho's - was like Shakespeare's sonnets. We can't tell if any particular one is autobiographical - but their simple message or story impresses less than the brilliance and wit of the language. But Sappho just c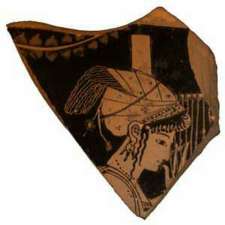 ame out with it. She said what felt, and felt what she said. I picture her as an Oprah of poetry: touched deeply and genuinely by the feelings of others, and complete unashamed to reveal her most inward secrets. When you read the fragments in a modern collection, you are normally given the ancient context - mostly they are preserved by the dullest most desiccated writers, quoting one of her jewels as an example of a metrical anomaly, or grammatical quirk, or as an intriguing insight into the strange Lesbian dialect in which she wrote. They sparkle among the dust.
More than most poetry, the fragments are untranslatable. I give you the Greek (without going into scholarly dispute about emendations), and enough information for those (greekless or not) who wish to process the information. If you click on the ear, you can hear an approximation to the original sound - might take a while if you have a slow connection.
Plenty more on Sappho at http://www.classicpersuasion.org/pw/sappho/index.htm and an excellent essay on her (and review of recent books) here (in pdf format).
| | |
| --- | --- |
| | |
| | |
| | |
| | |
| | |