Words
Great sporting quotes
Sports writers and commentators have been known to air their classical erudition form time to time ...
Cricket
'Ancient Babylon fell more swiftly to Cyrus the Persian, but the fall from grace has been far more painful for the Caribbean team.'
Garth Wattley in the Trinidad Express : as Brian Lara's West Indies XI lose a third successive test match in the Caribbean (and the series) to England. Only ten years ago Lara made 375, and England were all out for 46. [April 2004]. (But Lara scored 400 not out in the final test, recapturing his world record, and ensuring his team avoided the ignominy of a whitewash.[later in April 2004])
Darts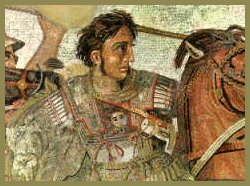 'When Alexander the Great was 33 he cried salt tears because there were no more worlds to conquer. Bristow is only 27.'
Sid Waddell on the legendary world darts champion, Eric "the Crafty Cockney" Bristow. Sid also described the atmosphere at darts match as "... a cross between the Munich Beer Festival and the Colosseum when the Christians were on the menu." And was responsible for the immortal: "Steve Beaton, he's not Adonis, he's THE donis."
Football
'A player who conjugates a verb in the first person singular cannot be part of the squad, he has to conjugate the verb in the first person plural. We. We want to conquer. We are going to conquer. Using the word I when you're in a group makes things complicated.'
Wanderley Luxemburgo [Brazil's coach], 1999 (sacked a few months later after Brazil lost to Cameroun in the Sydney Olympics quarter-finals)
'After Jesús Gil, the Roman army is a piece of pax for Ranieri.'
A typically obscure headline from the British football pages. Journalists have been milking the The Roman Empire concept. The purchase of Chelsea FC by Russian oil billionaire Roman Abramovich in 2003 has led to an appalling outbreak of wordplay among sporting journalists. An unofficial Chesea website actually does call itself the Roman Empire. Jesús Gil was the Chelsea manager Claudio Ranieri's despotic boss at Atlético Madrid. [April 2004]
'Rather than be wary of Greeks bearing gifts, Blackburn could not have been more grateful for the offering from Leicester defender Nikos Dabizas as they secured their first home win since November.'
Two struggling Premiership sides slug it out - Leicester's Greek midfielder Dabizas scores the only goal of the match: an own goal unfortunately! The Greek gifts idea is common - I get more emails asking me for the source of this quotation than any other. (Virgil's Aeneid 2, for the record. Spoken by Laocoön as he warns the Trojans that the Wooden Horse so generously left on the beach by the departing Greeks may not be all it seems.)
'For Porto it was a classic case of hubris and nemesis'
Porto 2 Chelsea 1. Jose Mourinho current manager of Chelsea, previously mastermind of Porto's Champions' League triumph last year, sees his side defeated. Or as the Guardian's Matt Scott continued: "With 5 minutes to go Cesar Peixoto became the deus ex machina, having come off the bench to send in the killer ball which Benni McCarthy dispatched clinically to keep the European Champions in the competition". [Guardian December 8 2004]
'Bob Van Persie is a well-known Rotterdam artist, a sculptor. His son's goals yesterday were good enough to be preserved in marble, but Blackburn were like those Barbarians in late antiquity who went about vandalising the treasures of Rome and ancient Greece. As Bob watched Andy Todd assault his boy with an upper arm smash in the dying minutes at Cardiff, he must have feared young Robin would be left, bodily, like the Venus de Milo.'
Robin Van Persie scored 2 goals in 5 minutes coming on as a sub for Arsenal against Blackburn in the FA Cup semi-final at the Millennium Stadium, Cardiff. Arsenal won 3-0. [Jonathan Northcroft in Sunday Times, April 17, 2005]. The mind boggles at a marble depiction of not 1, but 2 goals (it would surely have taxed the sculptor of the Laocoön): also a bit hard to imagine how a smack in the mouth could make your arms drop off while you simultaneously grow breasts. But good try, Jonathan.
For about 100 years, they've been content to leave the Spurs club motto, "Audere est Facere", in its original Latin, which we all used to speak, in the days when football began.
"Oh dear, it's fucked", is what I've always taken it to mean. I do have O-level Latin [read the Latin as if English!]. Now they've stuck up a literal translation, in large letters: "To dare is to do". The words just stand there, on their own, not making much sense ... In the act of being daring, you are obviously doing something, aint'cha? Unless it means that you succeed by daring. In other words, "Who dares, wins". But that's been well used. [Hunter Davies in the New Statesman, 24 October 2005, lamenting changes at the Tottenham Hotspur Football Ground, White Hart Lane.]
Dr Peter 'Friends of Classics' Jones has commented: "I wonder whether David Beckham would appreciate it, as he's covered in Latin tattoos. It strikes me as a shame to lose it. I seems pointless to me and sums up the contempt that football clubs have for their fans. The point is that in the 19th century a Latin signature gave status and quality to a club. A logo in another language is something of great importance."
More Chelsea bull:
"My brother-in-law Barry is a lifelong Chelsea fan and remembers the lean years. He'd rung me prior to the match at Goodison [Everton - bottom of the premiership - drew with Chelsea last week: Chelsea's first non-win of the season] to wallow in the hegemony of the Thousand Year Reich that Roman Abramovich is building. 'It's a bit like watching a bullfight when we play,' he crowed. 'The result is never in doubt, only how clean the kill will be.' Watch out for hubris, mate, or have you already signed him?" [Nicky Campbell in Guardian 27 October 2005]
Too late, they already have!
"Hubris hampers Chelsea on their way to world domination.
The day after Peter Kenyon announced Chelsea's plans to "own London", his team were defeated by a side who had just lost four games in a row [Everton - see above]. Somebody should give Kenyon a lesson in Greek philosophy, with particular reference to the concept of hubris." [Richard Williams in the Guardian 3 November 2005]
Golf
"Chowrasia probably suffering from triskaidekaphobia bungled on the 13th and allowed Harmeet to get a firm grip on the title."
Harmeet Takes Trophy; The Hindu (Chennai, India); Dec 23, 2006.
Please send me any others you come across!
And, as a bonus, the Philosophers' Footbal Match (Greeeks v Germans) from Monty Python's Flying Circus: