Greece 1971
Athens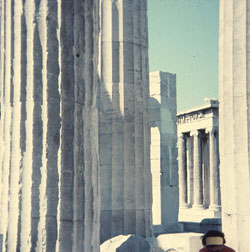 And so to Athens, via Corinth, and the obligatory stop at the Corinth Canal. We stayed in a pleasant hotel opposite the Kerameikos. The first evening (a full moon?) we went up to the Acropolis to enjoy the romantic ruins by moonglow. Amazing that the public were encouraged to roam anyway on the site in semi-darkness! Although I did get a chance to get inside the Parthenon in 1987 with a party of teachers on a DES course, access is now extremely limited. I can't remember anything else that we did in Athens - I've been there so often since that everything has been overlaid with later experiences. I do however remember a very fine supper (strange how food is always memorable!) in a fine restaurant in Kolonaki with Richard Janko and a Greek friend of his father, demostrating that there was in fact more to Greek cuisine than meat balls and tomatoes. At some point we climbed Lykabettos - something I've not managed to do since.
Crete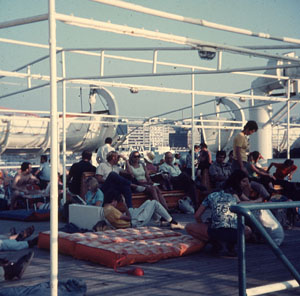 After a short stay in Athens, we drove to Piraeus and caught the overnight ferry for Iraklion, Crete. The idea was to bag a place on deck as soon as possible with one's sleeping-bad, with a view to sleeping in it later. I don't remember doing so - but our arrival in the early morning in the harbour at Iraklion is still pretty vivid. On Crete with did the usual things: Knossos, the Iraklion Museum, and also found time to drive across the island to Phaistos on the south coast in African heat. We had a fine lunch and great swimming on the north coast near Knossos, after which I had the traditional nap on a bench in the shade, but woke up to find myself in full sun and much burned.
Montenegro and the Dalmatian coast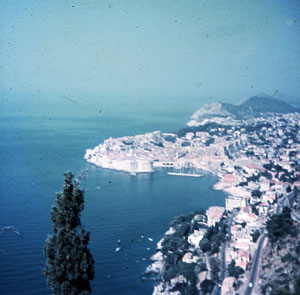 Boat back to Piraeus, Sounion, then homeward bound through northwest Greece and back into Yugoslavia. We crossed the mountains on rugged tracks - with local children sometimes waving, sometimes throwing stones - skirting the Albanian border, and reaching the Adriatic in Montenegro. From there we followed the coast all the way to Italy. Highspots - Dubrovnik and Split, frequent swims (dodging the turds and hideous litter that was then a feature of the otherwise superb beaches along the Dalmatian coast), drinking numerous shots of Slivovic and other liquors in a bar with Patrick one night (our first serious binge since Delphi) the barman encouraging us to sample everything on his shelf, the bridge at Mostar - and fabulous views of sea and mountain. I would have like to ask Patrick whether memories of '71 had influenced him in buying his palace in Montenegro when he retired.
Venice
Eventually - to Venice. I'd previously discovered the campsite at Punta Sabbioni, right across the lagoon from the city, but actually the nearest point on the mainland (apart from Mestre obviously). From there, early next morning, we caught the first vaporetto, and approached la serenissima as she should be - from the sea. It was still very hot - I spent quite a lot of our time there quietly sitting in the garden of San Giorgio dei Greci - then possibly the only place in Venice where you could sit peacefully in the shade without spending money!
Home
From Venice we headed homewards in earnest, via Innsbruck (plenty of trams to please Patrick), the German autobahnen, and, on our last night to a mansion in Belgium owned by some friends of Patrick's. I wish I could remember where! It was here that our third major binge took place: the son of the house escorted us to a local pub, where much good Flemish beer was consumed (all the beer in Greece was German, and marketed under the excellent name of "Fix"). I have a very clear recollection of a conversation with our host, he speaking only Vlaams, and me speaking only English. Soehow, through the power of beer we understood each other perfectly. Beer beats Babel?