ST JOHN THE BAPTIST CHURCH, WASPERTON
A SANCTUARY FOR WILDLIFE
Updated April 2019
When on St George's rye will
Hide a crow, a good harvest may
Be expected.
At St George's the meadow
turns to hay.
These two old farming sayings merely express the truth but here is a weather saw.
Thunder in April
floods in May.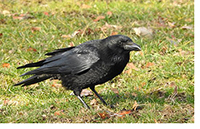 I'm afraid like so many sayings this produces a poor result of 30%. No thunder this month please. Now St George's Day is the 23rd April as you know, so seek out a field of rye and look for crows hiding if you will.
Weather wise usually April gives us a cold stormy period in the middle of the month with the annual maximum of Northerlies. Then the same again about the 23rd to the 25th.
You will recall that the Coventry Diocese have given us a sapling tree for the Churchyard, A flowering cherry tree has been planted and we now have the plaque to put in which commemorates the Churches Centenary Tree Planting year. We still have our birds, all the tits, blackbirds and thrushes nest building. Too soon to be sure about the nest boxes yet. The winter visitors the red wings and fieldfares have left us now.
I haven't seen any swallows etc. yet, have you ? Won't be long now. The bats will be out and about later this month I'm sure, still under the Church roof tiles now, not in our lovely bat boxes.
The spring bulbs have been a picture this year. Perhaps the dry hot weather last year has helped. Primroses and cowslips are budding and bursting and I'm hoping we will have a good show of spring flowers later this month into May. I did sow a lot of wild flower seeds last autumn in the mole hill soil seed beds. Yes, the moles are still very busy putting their hills just where we don't want them. Do have a walk through the Churchyard later in the month if you can to have a look, We will have started mowing the grass then, by the way we had a super supper as a group last month. Twenty one mowers and family in the Boar's Head, Hampton Lucy, such a good crowd. A big thank you to all helpers from me.
A lovely thought, a warm spring and summer to come hopefully, we must make the most of it. Thanks for your continued support.
Mike Porter
01926 624909