ST JOHN THE BAPTIST CHURCH, WASPERTON
A SANCTUARY FOR WILDLIFE
Updated August 2020
When the dew is heavy in
August, the weather generally
remains fair.
The first sentence is certainly true. To produce heavy dew at night the most favourable conditions needed are clear skies and a calm wind which are often associated with anticyclones and fair weather. August thunder- torms are on the decline after the summer July maximum but still remain frequent.
After Lamas corn ripens as
much as by night as by day.
This is an old country saying which is a fact, and Lamas or Loaf-Mass Day is the first of August. Thought you may like to know that. The thundery cyclonic weather of late July normally continues into the first week of August. The most dramatic change, after a mixed weather pattern for mid month, is the beginning of the late August or first storms of autumn. The last ten days of August cover this type of weather.
In the Churchyard we are now past the best of the wild flower colours and the seeds for next year are formed of forming. I will collect as many as I can towards the end of this month to sow in November or there about. I think this year the flowers and blossom have been so good, as good as ever I'm sure. Even from January with the early bulbs and then May was a great help, such lovely weather. Our wild birds have done very well too, Jane reminded me of the young thrushes seen here in the Churchyard recently. I'm not sure where they nested but it can't be far away. Daddy thrush is still singing away in the Churchyard most mornings,"did he do it, did he do it ?" Such a lovely song.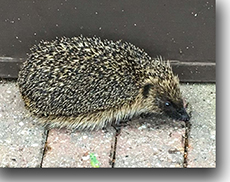 Now I'm sorry to keep going on about hedgehogs but Mike who lives just opposite the Church gate has a camera in his garden which picks up movement there at night and early morning. The photo here shows our prickly friend scuttling off first thing in the morning. Now did he come from the Churchyard ? I hope to have more reports from Mike, he very kindly sends me emails with the pictures attached. All very clever and beyond me I must say.
I'm very pleased we do seem to have a few hedgehogs in the village. A parent and baby hedgehog were seen in Peter's and Diana's garden just a couple of days ago. If you spot one do let me know.
August the month for holidays, I do hope you get a chance for a break now that the "lock down" is easing a bit. Don't forget, if you have something nice to do, do it now. Thanks for all your support.
Mike Porter
01926 624909