Barford War Memorial restored
It was in 2001 that talks about restoring the War Memorial began, but it was quickly realised that its ownership was vague.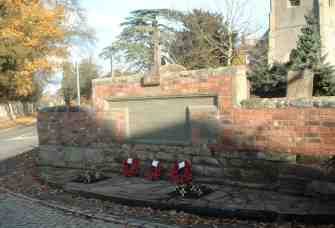 The wall undoubtedly belongs to the church, but the inset memorial plaques were almost certainly paid for by public subscription and would therefore be the responsibility of the Parish Council. Accordingly a joint PCC/ JPC working party was set up in Autumn 2002 with an ambitious target date for completion of the project of early November 2003.
Architectural specifications were drawn up, tenders placed and fundraising began. By July, FERN contractors were appointed to undertake the work and appropriate bricks and mortar mix agreed upon.
Meanwhile the money came pouring in from village organisations, coffee mornings and individual donations (£3,972), Buy-a-Brick Campaign (£1,045), Barford Residents' Association (£550), Friends of War Memorials (£500), Warwick District Council Conservation grant (£2,000), the Parochial Church Council's War Memorial Fund (£1,874) and the Joint Parish Council together meeting the cost of about £12,000.
The memorial cross was safely stored inside the church as work progressed and much of the old Hornton stone for the base was provided by John Murphy.
It was soon discovered that there was a discrepancy between the rank recorded for one of those remembered on the brass plaque in the church tower and that carved on the War Memorial. Research showed he was in fact Lance Corporal rather than Corporal so his correct rank has been restored on the new stone plaque.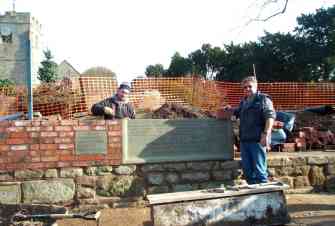 By Friday, November 8th the end was in sight – although close inspection showed that the plaque read "THE MEN OF THIS PARIS". The final "H" could only be carved on site after the mortar had set – real brinkmanship!



As we now know, work was completed just in time for dedication at the Remembrance Service on Sunday, November 10th 2003, when a capacity congregation came to give thanks for the lives of those who lost their lives in the two world wars.
The Barford War Memorial was first unveiled on Sunday 18th September 1921, to commemorate the men and one woman from the village who gave their lives in the Great War. The Memorial was erected in the churchyard wall facing Church Street, built of Horton stone from a design by Mr Charles Armstrong FRIBA.
Details of our War Memorial have since been added to the UK National Inventory of War Memorials, held by the Imperial War Museum.




ROLL OF HONOUR REGISTER

When you go home, tell them of us and say –
"For their tomorrow we gave our today"

In memory of the following who gave their lives in the
First World War 1914-1918

Frank A. Baker
Reuben Barnbrook
Frederick Bartlett
William Carter
Francis H. Freeman
George Hiorns
Arthur Hopkins
Charles W. Hunt
Frederick Pilkington
Harry W. Reeve
Henry D. Smith-Ryland
John Smith
Francis H. Talbot
Albert E. Winston
Harry Woodward
Mary M. Graham

and the Second World War 1939-1945

Maurice S. Barker
Lawrence E.W. Byam
John Finch
Richard H. Hadley
Gustavus L. Hamilton Russell
William Pumfrey
Alfred A. Upstone

Click on any of the names above for more information from the Debt of Honour register, a reminder that every name on the Memorial is a young life cut short.

Additional information on the individual pages is reproduced with permission of the author and publishers of the book, "The County of Warwickshire Roll of Honour 1914-2005" Volume 1, South Warwickshire, written by Kenneth Fowler and published by Able Publishing, Knebworth, Herts, ISBN: 1 903607 63 9