New! Game Cover
Scan Section

To showcase some of the excellent game cover artwork to come out of Japan in the past few years I've started on an archive of cover scans, kicking off with some requested and scarce import Saturn shoot'emup titles, the six games covered (hehe.. no pun intended!) so far being Kyukyoku Tiger 2 (aka Twin Cobra 2), Metal Black, Strikers 1945, Strikers 1945 II, Shienryu and Gekirindan. I've also tried to include a little information about each game, along with some screenshots if possible, as a few of these titles are hard to find out anything much about on the web at the moment. Look out for more cover scans as I get them done!
New Reviews

Wed July 7th Recent additions to DAM
Hi all. Apologies for the lack of updates on the 'Whats New' page in a while, blame the likes of Radiant Silvergun, Soukyugurentai and Capcom's X-Men vs Street Fighter on the Saturn... Oh and also R-Type Delta! (I'm up to Stage 5 now.. sheesh it's a tough one!). And blame that darn thing that they call 'work'! ;). If you haven't noticed however I have added a few new reviews
and features over the last few weeks as follows:

Einhander - Although I already have a section up on this excellent game
in the Rogues Gallery, Basi's review was so good I just had to use it!


Guardian Force- Success, the softco behind the 'cute' Cotton shooter series, bring a rather interesting little shoot 'em up our way. I've also taken a look at some of the best alternative space shmups on the Saturn in this review, including the aforementioned Silvergun and Soukyugurentai (two of the most stunning shoot 'em up titles I've ever had the pleasure of playing) plus Shienryu, Do don Pachi and Batsagun.


X-Multiply/Image Fight Pack- Two of my favourite Irem titles available on one CD for the Saturn.. beware, in terms of toughness these games go up to 11!


Raystorm: Zach Keene's follow up to his Layer Section review takes a detailed look at the graphically impressive sequel.








Rogues Gallery feature: R-Type: An excellent feature extolling the virtues of the classic R-Type which first appeared in Edge magazine (UK) in April 1998- well worth a read even if you are not an R-Type fan!



Someone who definitely is an R-Type fan is Claudio, who posted the following ode to R-Type, translated from a German gaming mag, on the Shmups Forum messageboard, where a debate on the merits of R-Type vs modern shooters has, most entertainingly, been raging for a good week or two now..

'Uh, I'm a bit late, just wanted to say that the article at (Destroy all Monsters- R-Type series) really says everything... I found something in an old german mag (3/97) which is quite a summary of the whole thing and I wanted to share it with all R-Type-lovers... consider though that its translated ;)

..If you compare R-Type with a modern Horizontal (!) Scroller, you'll just shake your head; THAT is the way level design has to be, then the fun will come; 8 Levels filled with individual enemies, gags & grimaces; a detatchable unit for multiple usages; a beam for a more powerful shot; no hectic fly through a screen filled with enemy-bullets and casual alien-formations; no energy-bar to compensate 'dunno-how-to-design'; pure Action filled with lots of strategy and ingenious level-design: every turret is at the 'right' place, every enemy is placed pixel-perfect.

'Magic Moment': everybody reaching level 3 the first time had to gasp for air facing that HUGE mothership; but nothing to get excited about: like every other stage, also this alien monster was beatable with the right strategy, an out-puzzled route and pod-attach-tactics; the BEST spaceship level of all time!..

I'm sure Wax will have nodded at the last sentence ;P '

HeHe.. Here's a man who knows where I'm coming from!
Lastly, I have also added a few more downloadable roms to the emulation section, namely a few harder to find SNES titles including Parodius & Ultimate Parodius, Konami's Cybernator (aka Assault Suits Valken), Cotton, and Macross: Scrambled Valkyrie.


More reviews and features are in the pipeline and should be available soon including:


Joshua Kaufman's in-depth reviews of the three releases so far in Konami's wild and wacky Gradius parody series, Parodius: that's Parodius and Ultimate Parodius (packaged as the one CD Parodius Deluxe Pack), Parodius Forever with Me (which had the dubious honour of being one of the largest Nintendo carts ever in its SNES incarnation) and the uniquely surreal (even for the Parodius series) Sexy Parodius!

A Metal Slug Rogues Gallery feature and very detailed Metal Slug 2 review - by Basi, who kindly sent me the Einhander review also. Metal Slug is a great and very photogenic series of Contra-style platform shooters which I've been meaning to cover for some time.. And talking of Metal Slug I've heard recently that Mame now supports the latest in the series, Metal slug X (below) ,though emulation enthusiasts seem to agree that offering the rom of such a recently released game is a bit a a moral (if not legal..) no-no, and I must say I'm inclined to agree. However with import prices of this much-desired Neo-Geo cart being astronomical (Online import vendors Byrite were originally offering it at 299 dollars! - though since then the price has dropped to around the $250 mark..) I can certainly see it being a tempting way for fans to actually get to play it.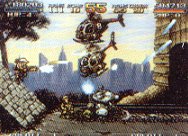 Zach Keene's review of the classic NES shmup Zanac. One of the earliest releases by famed Japanese producer Compile, Zanac was the first in a line of evolutionary vertical shooters from the acclaimed (at least among shmuppers) producer, who went on to design the likes of Gunhed (aka Blazing Lazers) on PCE and the SNES's Space Megaforce (we Brits, and indeed the Japanese, knew it as Super Aleste). Both games share design elements derived from features first seen in this NES classic.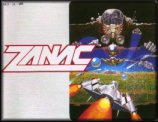 R-Type Delta: As I've said I've been working my way through this fabulous
shmup and I hope to offer my full opinions soon when I finally beat the damn thing.. hopefully soon..er...ish ;)
Other stuff I probably should have let you know about in the last few weeks!!...

Dracula X X6800 !! I haven't had much of an opportunity to play it fully, but
the amazing X68000 version of Castlevania was released last month to much all-round enthusiasm from the emulation community. From what I've seen it at least surpasses Dracula X (aka Castlevania 5) on SNES and possibly near-equals PSX Symphony of the Night in terms of graphical design & quality.. although game-play wise it is far more linear than the aforementioned game. However it more resembles the famed PCE CD version in containing a large number of alternate routes, and also large scale multi-directional scrolling stages (including some familiar areas and some all-new ones) which is as far as I know unique for a 16-bit Castlevania game. Konami and/or Castlevania series fans (like me!) would be well advised to give it a try. If you are interested pop along to the Japanese Computer Emulation Centre where you can download both the disk image of the game and the newest version of the EX68 emulator on which to run it. Getting it up and running is a fairly painless task, as long as you read the docs, a far cry from earlier versions of this emulator which were notoriously difficult to configure and run. Mind you it didn't help that all the docs previously were in Japanese! A big thankyou for all the hard work done by Vitor and all the other people involved in bringing you this once legendary version of Castlevania goes out from DAM! One last thing to note- although the zipped disc image of Dracula X is fairly small (1.5MB) it unzips to a 45MB or so disk image so make sure you make space on your hard drive before-hand ;)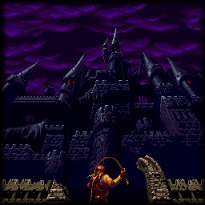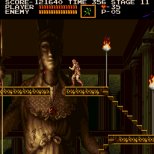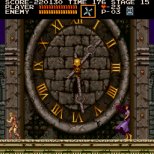 Dracula X X68000: Beautiful 16-bit artwork abounds...
for more screenshots visit www1.freeweb.ne.jp/%7Ekakugyou/dra/round1.html

MAME 0.35 fixed final released, with support for 1459 games! A number of nice Toaplan shooters - Outzone, the classic Truxton and the Taito distributed Flying Shark - are now emulated, giving those who were unable to run the 'Shark' emu due to configuration problems the chance to finally play them.. and they all run very well, especially in vertical orientation 'a la arcade'.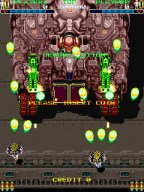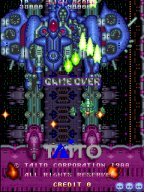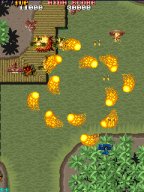 Left to Right: Outzone, Truxton (aka Tatsujin), Flying Shark (aka Sky Shark)
Other newly released Mame goodies in the new 0.35 final version include Data East's Act Fancer and SNK's Alien Syndrome-esque shooter Search and Rescue. Still no Raiden emulation though unfortunately.. The Mame Homepage is here.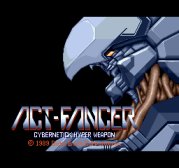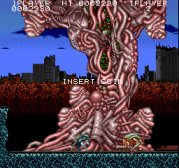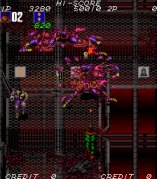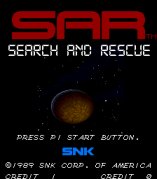 Raine update: The latest version, Raine 0.23 contained support for a Tecmo shooter Thunder Dragon, as well as two 'hidden' games- Mutant Night and Bio Ship Paladin (some may remember the Megadrive version). Also check out forthcoming emulation of Strahl, a very nice horizontal airplane shooter with a graphical style similar to SNK's Metal Slug series, which I'm rather looking forward
to myself. The Raine homepage is here.
Recently announced Dreamcast shooters: ;)



Gunbird 2 - the follow up to the first arcade and Saturn release, and a kind of barking-mad Strikers 1945 on mind-bending substances... is looking good. These screenshots are from Psikyo's Japanese site.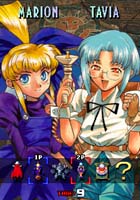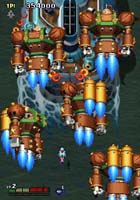 Panorama Cotton 3D II - (below) is likewise looking very nice indeed, certainly a far cry from the original incarnation of this game on the Genesis/Megadrive. The chances are we won't ever get to see an official release of this spinoff from the series in the West though.. :( More info on Sucess's Cotton site)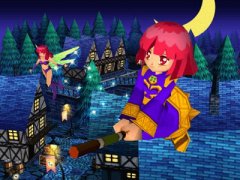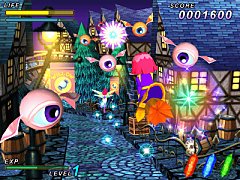 Shienryu 2: The sequel to the Warashi ST-V board arcade/Saturn title which, seeing as the original (below) was one of the nicest looking shooters on Sega's last console, this sequel should be equally impressive by Dreamcast standards.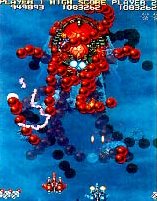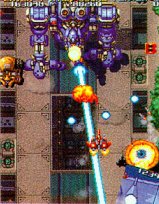 I don't have a DC yet myself but the forthcoming release of these games is yet another reason to make the system VERY appealing, another reason is Capcom's awesome Marvel vs Capcom beat 'em up which proves the machine can excel as
a 2D sprite-shifter way up to and beyond the standard of many peoples expectations.

Oh, and in case you haven't seen House of the Dead 2 and Sega Rally yet, it's not bad at three dimensions either, but that's another story.. I for one am looking forwards to getting a look at Dead or Alive 2 and Soul Calibur though.
Right that's more than enough to keep you lot happy for a bit..!
I'm off to play some more Radiant Silvergun ;)

Mike B