WELLESBOURNE AND DISTRICT LIONS CLUB :
September 2021
Click here for details of this year's Scary Scarecrow Competition (PDF). See last year's competition below.
To find out more about any of our work or how you can get involved please email:
info@wellesbourne-lions.org.uk
Charity Registration No. 1061868
@wdlionsclub
LIONS: Ordinary people …. amazing things
More details on our website www.wellesbourne-lions.org.uk and on Facebook
www.facebook.com/wdlionsclub/
Lion Andy Stokes
---
Whoooo! We have a winner!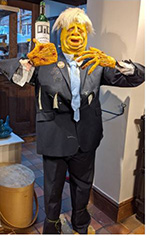 We had a super selection of spooktacular entries to our first Halloween Scary Scarecrow Competition! The competition attracted a total of 39 photo entries which were posted on our Facebook page and the winner was chosen by the number of 'likes' for each entry.
The winner was 'Boris de Frankenstein', the crazed creation of Dave and Carmel Coleman from Barford. Honourable mentions also go out to 'The Scarecrow Eater' by Charlie and Willow Holtom, 'Morose Maurice' by The Skinners and 'Woodcutter' by Katy Field (all 3 entries from Wellesbourne).
We raised an amazing £343.75 from entry fees and donations on our JustGiving page and all monies raised will go towards supporting local charities.
Many thanks to the Co-Op for donating a £30 gift voucher for the winner and to everyone who took part. We can't wait for next year!
---
COME AND JOIN US
We are always looking for additional Lions members from the local area: Wellesbourne, Kineton, Lighthorne, Ettington, Barford and all the surrounding villages.
Why not come along as a guest to one of our Club meetings where we discuss our plans and have a drink with friends. If you like what you see and hear, we would be delighted to have you join us as a new member.
We meet at the Conservative Club in Church Street, Wellesbourne at 8pm on the 2nd and 4th Monday of every month.
If you prefer to speak to someone first, just ring Nikki Loveridge on 01789 841073
If you are interested in learning more about the Lions then click here for our website
Lion Andy Stokes
February 2020