WELLESBOURNE AND DISTRICT LIONS CLUB :
April 2021
Lions are making plans - with cautious optimism
We are pleased to be able to tell you that we raised £205 with our Valentine's Day collection at Wellesbourne Co-op. On a very cold day, several hardy Lions together with Clarence, our mascot, stood outside shaking some socially distanced buckets. Many thanks to the Co-op for making this possible and to everyone who contributed.
As promised, we are making plans for our fundraising this year, with no absolute guarantees when certain activities will be permitted, we are erring on the side of caution for the next few months:
In May we will be asking families to get creative in the kitchen with a 'virtual bake off' challenge to make a baked item in the form of a lion; more details will be available in newsletters next month and on our website and Facebook pages.
For July we are planning walking treasure hunts for each of the major villages in our area.
We will be announcing the winners of the Easter Egg Nest competition in May newsletters (still time to enter if you are reading this before 5pm on 3rd April!)
Throughout 2021 we will be running a campaign to raise funds for local Guiding groups through our Just Giving page where you can also find more information : https://www.justgiving.com/campaign/wellesbournelions2021in2021. We will be publishing updates on this initiative throughout the year.
To find out more about any of our work or how you can get involved please email:
info@wellesbourne-lions.org.uk
Please help the Lions continue to help the people of Wellesbourne, Ettington, Combrook, Moreton Morrell, Lighthorne, Kineton, Barford, Hampton Lucy, Charlecote and all communities in between. Something we have been doing for nearly 50 years!
You can donate anytime by going to: https://www.justgiving.com/wellesbournedistrict-lionsclubs
Charity Registration No. 1061868
http://www.wellesbourne-lions.org.uk/
@wdlionsclub
LIONS: Ordinary people …. amazing things
More details on our website www.wellesbourne-lions.org.uk and on Facebook
www.facebook.com/wdlionsclub/
Lion Andy Stokes
---
Whoooo! We have a winner!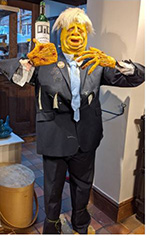 We had a super selection of spooktacular entries to our first Halloween Scary Scarecrow Competition! The competition attracted a total of 39 photo entries which were posted on our Facebook page and the winner was chosen by the number of 'likes' for each entry.
The winner was 'Boris de Frankenstein', the crazed creation of Dave and Carmel Coleman from Barford. Honourable mentions also go out to 'The Scarecrow Eater' by Charlie and Willow Holtom, 'Morose Maurice' by The Skinners and 'Woodcutter' by Katy Field (all 3 entries from Wellesbourne).
We raised an amazing £343.75 from entry fees and donations on our JustGiving page and all monies raised will go towards supporting local charities.
Many thanks to the Co-Op for donating a £30 gift voucher for the winner and to everyone who took part. We can't wait for next year!
---
COME AND JOIN US
We are always looking for additional Lions members from the local area: Wellesbourne, Kineton, Lighthorne, Ettington, Barford and all the surrounding villages.
Why not come along as a guest to one of our Club meetings where we discuss our plans and have a drink with friends. If you like what you see and hear, we would be delighted to have you join us as a new member.
We meet at the Conservative Club in Church Street, Wellesbourne at 8pm on the 2nd and 4th Monday of every month.
If you prefer to speak to someone first, just ring Nikki Loveridge on 01789 841073
If you are interested in learning more about the Lions then click here for our website
Lion Andy Stokes
February 2020