LATEST NEWS FROM BARFORD ST PETER'S C of E PRIMARY SCHOOL
We now have a new School Website giving parents constant updates on what is happening in School.
After a very busy start to the new academic year the pupils returned from half term full of enthusiasm and eager to share their news. As part of their Aztecs topic, classes 4 and 5 had a visit to Cadbury's World where they were shown how Cadburys manufacture their products. This was followed in the afternoon by a very informative talk about marketing. The children had to decide what their favourite filling would be if they were creating a new chocolate bar and after much deliberation they decided it was bubble-gum!
As part of the BBC's quest to find a Junior School Choir Vic Minett, a presenter at BBC Coventry and Warwickshire radio, visited Barford School to record pupils from classes 4 and 5 singing three songs. We were all thrilled when they were asked to attend the finals held in City Hall Coventry on 2nd November. During the final performance, which was broadcast on live radio, the pupil's behaviour and enthusiasm was outstanding. Our thanks go to Mrs Lewis for arranging this and giving her time and support throughout the rehearsals and also to Mrs Stock for her support and conducting the singing on the evening. Although they weren't the winners it was a wonderful experience for them all. We were very proud of their success, well done children.
The younger pupils will soon be practising their Nativity play 'Busy, Busy Bethlehem' All of Reception and KS1 will take part and some of them are only 4. It is wonderful to hear them singing as they walk through school reminding us that Christmas is not very far away.
Best wishes from the staff and pupils at Barford St Peter's C of E Primary School
---
SCHOOL GETS SUPPORT TO IMPROVE ITS TRAVEL PLAN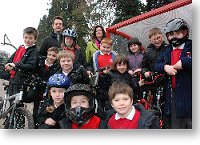 Pupils and staff at Barford St. Peter's Church of England Primary School were celebrating recently when a new bike rack was installed to improve the storage facilities for children cycling to school.
The school received a grant from Warwickshire County Council to actively promote cycling to school and to endorse safer and greener travel as part of the travel plan. Barford have also introduced a system where parents and children sign up for a "cycle permit" administered by staff.
The project was generously supported by Morrison Construction part of the Galliford Try group who provided both materials and labour enabling the school to have these new cycle racks installed.
Head teacher Mrs Annette Delaney said, "We are extremely pleased that our children can be encouraged to use their bikes safely on the way to and from school. As a village school it is extremely important that we encourage safe and healthy forms of travelling. These superb facilities will help to keep the children's bikes secure when they are in school. It would not have been possible without the support from WCC and Morrison Construction. We have already started to put the racks to good use".
---
VILLA COACHES BRING FUN AND GAMES TO VILLAGE SCHOOL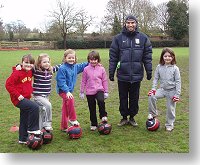 Top coaches from Aston Villa Football Club are helping to put fun into football with the children and staff at Barford St Peter's Primary School under a community coaching initiative.
The pupils from Years 1, 2, 3 and 4 are receiving weekly football training sessions from Aston Villa's coaching staff. The term got off to a fantastic start with a variety of fun filled games and exercises being taught. The first session was hugely popular with boys and girls reporting how they enjoyed learning new team skills.
Head teacher Annette Delaney was extremely pleased with this initiative. "Seeing our boys and girls all having the opportunity to experience sports coaching from a well known premiership club in this way is just fantastic. The children have clearly enjoyed working with a professional coach. We are extremely grateful to have secured the support from Aston Villa FC for this six week programme. Paul is a popular coach and provided the children with many 'foot balling tips' as well as making it lots of fun."
Some of the popular games for the pupils included playing "traffic light football" and "stuck in the mud". The sessions will take place each week at the school.
---
MUSICAL TALENTS FROM PAST AND PRESENT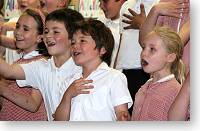 The village of Barford was treated to an evening of musical entertainment on a night to remember when 16 acts took the stage .The event , "Barford School Music Evening" saw a packed school hall with villagers , parents and friends attending an evening soiree in the school which took months of dedicated preparation .
Over 50 children , past and present pupils of Barford St Peter's C.E. (V.A) Primary took part. The line up included a wide range of performances including sax, clarinet , piano and violin fanfares and plenty of singing.
The evening was the culmination of detailed planning all carefully put together by music teacher Mrs Joyce Lewis and her team , supported by the school FABS committee. Commenting on the play to the 150 string audience Head Teacher Mrs. Annette Delaney said " This was a wonderful evening for all of us to remember. We are extremely proud to have such fantastic mix of musical talents in our school and it is great that past pupils were able to come along and perform for us. The school is committed to the teaching of music and it is lovely to see and hear it all come together in this way."
The finale was a performance of three pieces played by The Royal Spa Brass Ensemble , which included one of the parents. Not only was this a truly wonderful event it also raised money towards school funds.
---
Don't forget to collect tokens - we collect tokens from Sainsbury's, Tesco, The Times and Nestle Cereals. Now these can be left at the Village Shop if you don't have a child at the school. Click for more details.
Click here for pictures of the school building work.

Click here for pictures from the Summer School fete.