LATEST NEWS FROM BARFORD ST PETER'S C of E PRIMARY SCHOOL
We now have a new School Website giving parents constant updates on what is happening in School.
As the Summer term drew to a close there were many exciting activities in school. The weather was perfect for Sports Day and Family Picnic and the event was enjoyed by everyone. Six pupils were part of the winning Stratford District Team that took part in the area athletics event...well done.
Under the guidance of Mrs. Funge, the keyboard teacher, some pupils performed in a special assembly. There was a theme to the concert and all the children played exceptionally well, especially those who had only been playing for a year.
The main focus at the end of term was our Year 6 leavers, this year wearing their own choice of coloured hoodies to mark this significant time of transition in their lives. They took lead roles in ' Alice in Wonderland' supported by the rest of Key Stage 2. It was wonderful!! Year 6 also enjoyed a fun, family bowling evening (joined by very competitive members of staff) and the traditional farewell evening get-together held in school.
The end of term leaver's service always brings an element of sadness as Year 6 say farewell to Barford School. However we know they are all looking forward to secondary school and all the challenges that it may bring. They often come back and see us as did some past pupils who were having great fun on the bouncy slide on Fete day!
In September we will be welcoming Mr. Ganjavi as a fully qualified teacher. He excelled on his course and has been nominated for an 'Outstanding Trainee' award at Warwick University … well done.
Best wishes from staff and pupils at Barford St Peters
---
BARFORD ST PETERíS SCHOOL TRUST
Barford St Peterís School Trust will require a new Trustee from July 2016.
The Trustees of Barford School date back to 1836, when the then Rector re-established a Trust for the education of children in the parish. The Trustees are selected from the local community and the current Trustees are the Revíd David Jessett, Mr I McBeath, Mr R Jordan, Mr W Worrall, Mrs H Clay, Mr J Partridge and Mrs J Heap.
There have been many changes at the school within recent years, in 1996 it became a voluntary aided primary school and vacated the old Victorian building which the Trustees now rent out to the Beehive Nursery. The rentals of the old school and school house have mostly been used to provide the governorsí share of development costs of some of the new building that has taken place over the past 20 years. Recently the Trust has been able to support the King Georgeís Playing field regeneration scheme which will benefit the pupils of Barford St Peterís school by enhancing the physical education curriculum.
The Trustees retire in rotation and a vacancy will arise for a trustee in July 2016. In the interests of greater transparency, the present Trustees are inviting members of the Parish of Barford to put their names forward if they interested in becoming a Trustee.
For further information on the duties and responsibilities of the Trustees, please contact Mr Worrall, the chairman, on 624407.
If you are interested in applying, please do so in writing to the secretary to the Trustees, Mrs Helen Clay, The Cottage, Mill Lane or .
The present Trustees will then consider all the applications and may invite prospective candidates to attend a meeting where they can discuss further. A full meeting of all the Trustees will then approve a candidate to fill the vacancy.
The closing date for applications is end of June 2016.
---
SCHOOL GETS SUPPORT TO IMPROVE ITS TRAVEL PLAN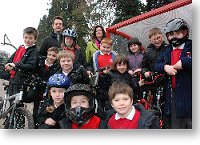 Pupils and staff at Barford St. Peter's Church of England Primary School were celebrating recently when a new bike rack was installed to improve the storage facilities for children cycling to school.
The school received a grant from Warwickshire County Council to actively promote cycling to school and to endorse safer and greener travel as part of the travel plan. Barford have also introduced a system where parents and children sign up for a "cycle permit" administered by staff.
The project was generously supported by Morrison Construction part of the Galliford Try group who provided both materials and labour enabling the school to have these new cycle racks installed.
Head teacher Mrs Annette Delaney said, "We are extremely pleased that our children can be encouraged to use their bikes safely on the way to and from school. As a village school it is extremely important that we encourage safe and healthy forms of travelling. These superb facilities will help to keep the children's bikes secure when they are in school. It would not have been possible without the support from WCC and Morrison Construction. We have already started to put the racks to good use".
---
MUSICAL TALENTS FROM PAST AND PRESENT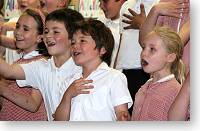 The village of Barford was treated to an evening of musical entertainment on a night to remember when 16 acts took the stage .The event , "Barford School Music Evening" saw a packed school hall with villagers , parents and friends attending an evening soiree in the school which took months of dedicated preparation .
Over 50 children , past and present pupils of Barford St Peter's C.E. (V.A) Primary took part. The line up included a wide range of performances including sax, clarinet , piano and violin fanfares and plenty of singing.
The evening was the culmination of detailed planning all carefully put together by music teacher Mrs Joyce Lewis and her team , supported by the school FABS committee. Commenting on the play to the 150 string audience Head Teacher Mrs. Annette Delaney said " This was a wonderful evening for all of us to remember. We are extremely proud to have such fantastic mix of musical talents in our school and it is great that past pupils were able to come along and perform for us. The school is committed to the teaching of music and it is lovely to see and hear it all come together in this way."
The finale was a performance of three pieces played by The Royal Spa Brass Ensemble , which included one of the parents. Not only was this a truly wonderful event it also raised money towards school funds.
---
Don't forget to collect tokens - we collect tokens from Sainsbury's, Tesco, The Times and Nestle Cereals. Now these can be left at the Village Shop if you don't have a child at the school. Click for more details.
Click here for pictures of the school building work.

Click here for pictures from the Summer School fete.