LATEST NEWS FROM BARFORD ST PETER'S C of E PRIMARY SCHOOL
October 2017
We now have a new School Website giving parents constant updates on what is happening in School.
We were delighted to see the pupils return to school, very keen to share their holiday news. They all looked so smart in their uniforms and loved showing off shiny new shoes. The reception children were introduced to everyone. They sometimes find 'big' school a bit daunting but they are coping very well. Our older pupils are brilliant and have been very helpful at guiding them through the first few days of the school routine. We are also thinking of the pupils who left last term and have now started their transition to secondary school.
When asked, during assembly, what the pupils would like to improve on in this academic year the various responses included 'learning my spellings, being more creative, making new friends, be a more confident learner (I CAN do it!) and not talking so much in class!' The children enjoyed looking at all the post cards they had sent in during their holidays and many miles had been travelled to all parts of the World. One member of staff climbed Kilimanjaro; it was an exhausting but amazing experience.
At the end of last term Mrs. Herrington retired. She had been a calm, committed member of staff and we will miss her, although we know she will enjoy all the exciting activities that she has planned for the future.
We welcome Mrs. Hurlock, Mrs Partridge and Mr Seward as permanent members of staff. Mrs. Steward will also be returning to Barford School and we look forward to working together, as a team, with them all.
Our congratulations go to Sanchia Hansen, a past pupil, who was awarded a special award by FM Pride of Warwick District Award for offering support and companionship to various organisations - well done Sanchia.
After an outstanding performance of 'A Midsummers Night Dream' by Key Stage 2 pupils at the end of the last academic year, we will all be looking forward to this year's Nativity play performed by the younger members of our school.
Best wishes from staff and pupils at Barford St Peters
---
SCHOOL EASTER PLAY :
In the last week of school before the Easter holidays, the year 6 children prepared and gave two performances of a Passion Play which portrayed the founding events of Christianity from Palm Sunday to Easter morning.
For this, St Peter's Church became Jerusalem in around AD30 and those who came to watch found themselves being part of the crowd seeing the events unfold. With different areas of the Church and Churchyard becoming the various scenes like the Temple, the Upper Room where the last supper took place, the Garden of Gethsemane, Calvary and the tomb, the action moved around the different locations as the story was told. With a minimum of props and a lot of imagination and with the 'actors' doing really well at entering into their characters the result was a lively presentation which will have helped to ensure that all the other children at our local Church of England School have a good grasp of the Easter story.
Thanks are due to David and Ann Hall and Wendy Barlow whose help with stage management and music was vital.
---
SCHOOL GETS SUPPORT TO IMPROVE ITS TRAVEL PLAN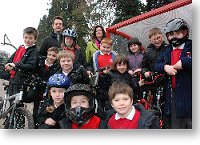 Pupils and staff at Barford St. Peter's Church of England Primary School were celebrating recently when a new bike rack was installed to improve the storage facilities for children cycling to school.
The school received a grant from Warwickshire County Council to actively promote cycling to school and to endorse safer and greener travel as part of the travel plan. Barford have also introduced a system where parents and children sign up for a "cycle permit" administered by staff.
The project was generously supported by Morrison Construction part of the Galliford Try group who provided both materials and labour enabling the school to have these new cycle racks installed.
Head teacher Mrs Annette Delaney said, "We are extremely pleased that our children can be encouraged to use their bikes safely on the way to and from school. As a village school it is extremely important that we encourage safe and healthy forms of travelling. These superb facilities will help to keep the children's bikes secure when they are in school. It would not have been possible without the support from WCC and Morrison Construction. We have already started to put the racks to good use".
---
MUSICAL TALENTS FROM PAST AND PRESENT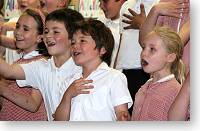 The village of Barford was treated to an evening of musical entertainment on a night to remember when 16 acts took the stage .The event , "Barford School Music Evening" saw a packed school hall with villagers , parents and friends attending an evening soiree in the school which took months of dedicated preparation .
Over 50 children , past and present pupils of Barford St Peter's C.E. (V.A) Primary took part. The line up included a wide range of performances including sax, clarinet , piano and violin fanfares and plenty of singing.
The evening was the culmination of detailed planning all carefully put together by music teacher Mrs Joyce Lewis and her team , supported by the school FABS committee. Commenting on the play to the 150 string audience Head Teacher Mrs. Annette Delaney said " This was a wonderful evening for all of us to remember. We are extremely proud to have such fantastic mix of musical talents in our school and it is great that past pupils were able to come along and perform for us. The school is committed to the teaching of music and it is lovely to see and hear it all come together in this way."
The finale was a performance of three pieces played by The Royal Spa Brass Ensemble , which included one of the parents. Not only was this a truly wonderful event it also raised money towards school funds.
---
Don't forget to collect tokens - we collect tokens from Sainsbury's, Tesco, The Times and Nestle Cereals. Now these can be left at the Village Shop if you don't have a child at the school. Click for more details.
Click here for pictures of the school building work.

Click here for pictures from the Summer School fete.