LATEST NEWS FROM BARFORD ST PETER'S C of E PRIMARY SCHOOL
We now have a new School Website giving parents constant updates on what is happening in School.
What an exciting time Year 2 and members of staff had when they visited Aston Hall in Birmingham! The pupil's topic is 'The Great Fire of London' and they were expertly guided through the story. They especially enjoyed the kitchen where they were told how the fire started and The Long Gallery where they formed a human chain to put out the fire with buckets of imaginary water. During the day some of the children dressed up as key characters and wore long curly wigs. Following a creative painting session the pupils returned to school; one child was heard to say it was the best visit yet!
Congratulations to all our past pupils who gained wonderful exam results and we wish them well in their new ventures.
As a fund-raiser for Children in Need, the School Council, are going to hold a 'Barford Bake-Off'. We will look forward to exciting (and tasty) results.
FABS hosted a school disco for the children to dance and enjoy themselves; there were some very glittery outfits! They also hosted the annual Bonfire Party, which was a wonderful, very busy, social event for the whole village. We really do appreciate and thank FABS for all their hard work. It takes them all weekend to organise this event and clear up afterwards. They raised a staggering £6,500 for school funds which truly is a wonderful achievement!
Year 6 pupils and members of staff returned from PGL exhausted but eager to share stories about their successes.
Well done to them all.
Key Stage 1 have begun rehearsals for the Nativity; the children are even practising their songs and dance routines in the playground at break-time. They enjoy performing as much as we all love watching them.
Best wishes from staff and pupils at Barford St Peters
---
BARFORD ST PETERíS SCHOOL TRUST
Barford St Peterís School Trust will require a new Trustee from July 2016.
The Trustees of Barford School date back to 1836, when the then Rector re-established a Trust for the education of children in the parish. The Trustees are selected from the local community and the current Trustees are the Revíd David Jessett, Mr I McBeath, Mr R Jordan, Mr W Worrall, Mrs H Clay, Mr J Partridge and Mrs J Heap.
There have been many changes at the school within recent years, in 1996 it became a voluntary aided primary school and vacated the old Victorian building which the Trustees now rent out to the Beehive Nursery. The rentals of the old school and school house have mostly been used to provide the governorsí share of development costs of some of the new building that has taken place over the past 20 years. Recently the Trust has been able to support the King Georgeís Playing field regeneration scheme which will benefit the pupils of Barford St Peterís school by enhancing the physical education curriculum.
The Trustees retire in rotation and a vacancy will arise for a trustee in July 2016. In the interests of greater transparency, the present Trustees are inviting members of the Parish of Barford to put their names forward if they interested in becoming a Trustee.
For further information on the duties and responsibilities of the Trustees, please contact Mr Worrall, the chairman, on 624407.
If you are interested in applying, please do so in writing to the secretary to the Trustees, Mrs Helen Clay, The Cottage, Mill Lane or .
The present Trustees will then consider all the applications and may invite prospective candidates to attend a meeting where they can discuss further. A full meeting of all the Trustees will then approve a candidate to fill the vacancy.
The closing date for applications is end of June 2016.
---
SCHOOL GETS SUPPORT TO IMPROVE ITS TRAVEL PLAN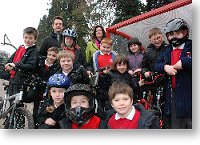 Pupils and staff at Barford St. Peter's Church of England Primary School were celebrating recently when a new bike rack was installed to improve the storage facilities for children cycling to school.
The school received a grant from Warwickshire County Council to actively promote cycling to school and to endorse safer and greener travel as part of the travel plan. Barford have also introduced a system where parents and children sign up for a "cycle permit" administered by staff.
The project was generously supported by Morrison Construction part of the Galliford Try group who provided both materials and labour enabling the school to have these new cycle racks installed.
Head teacher Mrs Annette Delaney said, "We are extremely pleased that our children can be encouraged to use their bikes safely on the way to and from school. As a village school it is extremely important that we encourage safe and healthy forms of travelling. These superb facilities will help to keep the children's bikes secure when they are in school. It would not have been possible without the support from WCC and Morrison Construction. We have already started to put the racks to good use".
---
MUSICAL TALENTS FROM PAST AND PRESENT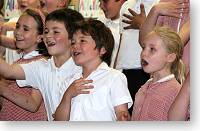 The village of Barford was treated to an evening of musical entertainment on a night to remember when 16 acts took the stage .The event , "Barford School Music Evening" saw a packed school hall with villagers , parents and friends attending an evening soiree in the school which took months of dedicated preparation .
Over 50 children , past and present pupils of Barford St Peter's C.E. (V.A) Primary took part. The line up included a wide range of performances including sax, clarinet , piano and violin fanfares and plenty of singing.
The evening was the culmination of detailed planning all carefully put together by music teacher Mrs Joyce Lewis and her team , supported by the school FABS committee. Commenting on the play to the 150 string audience Head Teacher Mrs. Annette Delaney said " This was a wonderful evening for all of us to remember. We are extremely proud to have such fantastic mix of musical talents in our school and it is great that past pupils were able to come along and perform for us. The school is committed to the teaching of music and it is lovely to see and hear it all come together in this way."
The finale was a performance of three pieces played by The Royal Spa Brass Ensemble , which included one of the parents. Not only was this a truly wonderful event it also raised money towards school funds.
---
Don't forget to collect tokens - we collect tokens from Sainsbury's, Tesco, The Times and Nestle Cereals. Now these can be left at the Village Shop if you don't have a child at the school. Click for more details.
Click here for pictures of the school building work.

Click here for pictures from the Summer School fete.