LATEST NEWS FROM BARFORD ST PETER'S C of E PRIMARY SCHOOL
February 2019
We now have a new School Website giving parents constant updates on what is happening in School.
'QUESTION TIME' AT BARFORD ST PETER'S PRIMARY SCHOOL
On Monday 19th November, our year 5 and 6 pupils were involved in a live debate regarding the proposed plans for a Sand and Gravel Pit in Wasperton, close to Barford. We invited Mr Les Caborn, from the local authority, who supports the plans and Mr Malcolm Eykyn, a retired GP, who opposes the plans. Both speakers set out their reasons in a short presentation which was followed by some mature and challenging questions from the children.
The debate concluded in a vote based on the information the children had heard. The result was overwhelmingly against the proposal as pupils were concerned about the impact on wildlife, an increase in traffic and an increase in asthma due to dust in the air. The children are now writing to our MP Matt Western, Professor Snowling at St John's College Oxford, which owns the land, and Theresa May.
ANGEL EXPRESS NATIVITY
Our Reception and KS1 pupils were once again truly spectacular in this year's Nativity 'Angel Express'. The acting was superb, the singing was wonderful and the dancing and humour was perfect. We are just so proud of them all. We have received some wonderful feedback from family and friends and really do appreciate your comments. Thanks must go to the staff who worked so hard putting this performance together. We would also like to say a huge thank you to all of the parents who supplied costumes for the production.
PRE-CHRISTMAS GATHERING
Our Pre-School children did remarkably well performing to parents and carers on Friday 14th December. They were very confident and 'wowed' us all with their beautiful singing and actions. The event concluded with everyone dancing to 'Rock a Robin' directed by Miss Hannah. It was great fun!
CINDERELLA ON ICE
On Wednesday 18th December the whole school went to Planet Ice in Coventry to see Cinderella. It was a lovely occasion and the children loved the re-enactment of the story. Once again we would like to thank FABS for paying a contribution to the coaches and for providing the children with refreshments.
BARFORD ST PETER'S CHURCH CAROL SERVICE
On Sunday 16th December, four of our pupils read at the Carol Service in St Peter's Church. We were so proud of the girls and the feedback from the congregation was amazing. Many people said how much they had enjoyed hearing them read and that it had added something special to the service. Well done May S, Phoebe, Rubina and Caitlin.
SPORTING ACHIEVEMENTS
This year we have decided to reward the sporting achievements of our pupils at the end of each term. On Friday 21 st December we held an assembly to celebrate the successes we have in swimming, cross country and many other sports. Mrs Gallagher has also introduced 6 cups for achievements in 'Passion, Team Work, Respect, Honesty and Determination'. These will be awarded by our Sports Leaders.
CHRISTMAS CHURCH SERVICE
Our term concluded with a traditional service at St Peter's Church. It was lovely to hear the parents/carers and friends join in with the carols. It was particularly special this year as it will be Rev. Jessett's final Christmas Service at Barford, as he is retiring in February. He has been a huge part of Barford School and we will really miss him, his assemblies and the many special church services he has led over the years. We wish him a wonderful retirement and thank him for his support.
Best wishes from Staff and Pupils.
---
SCHOOL GETS SUPPORT TO IMPROVE ITS TRAVEL PLAN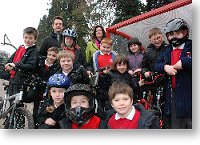 Pupils and staff at Barford St. Peter's Church of England Primary School were celebrating recently when a new bike rack was installed to improve the storage facilities for children cycling to school.
The school received a grant from Warwickshire County Council to actively promote cycling to school and to endorse safer and greener travel as part of the travel plan. Barford have also introduced a system where parents and children sign up for a "cycle permit" administered by staff.
The project was generously supported by Morrison Construction part of the Galliford Try group who provided both materials and labour enabling the school to have these new cycle racks installed.
Head teacher Mrs Annette Delaney said, "We are extremely pleased that our children can be encouraged to use their bikes safely on the way to and from school. As a village school it is extremely important that we encourage safe and healthy forms of travelling. These superb facilities will help to keep the children's bikes secure when they are in school. It would not have been possible without the support from WCC and Morrison Construction. We have already started to put the racks to good use".
---
MUSICAL TALENTS FROM PAST AND PRESENT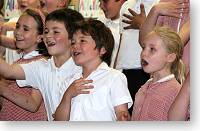 The village of Barford was treated to an evening of musical entertainment on a night to remember when 16 acts took the stage .The event , "Barford School Music Evening" saw a packed school hall with villagers , parents and friends attending an evening soiree in the school which took months of dedicated preparation .
Over 50 children , past and present pupils of Barford St Peter's C.E. (V.A) Primary took part. The line up included a wide range of performances including sax, clarinet , piano and violin fanfares and plenty of singing.
The evening was the culmination of detailed planning all carefully put together by music teacher Mrs Joyce Lewis and her team , supported by the school FABS committee. Commenting on the play to the 150 string audience Head Teacher Mrs. Annette Delaney said " This was a wonderful evening for all of us to remember. We are extremely proud to have such fantastic mix of musical talents in our school and it is great that past pupils were able to come along and perform for us. The school is committed to the teaching of music and it is lovely to see and hear it all come together in this way."
The finale was a performance of three pieces played by The Royal Spa Brass Ensemble , which included one of the parents. Not only was this a truly wonderful event it also raised money towards school funds.
---
Don't forget to collect tokens - we collect tokens from Sainsbury's, Tesco, The Times and Nestle Cereals. Now these can be left at the Village Shop if you don't have a child at the school. Click for more details.
Click here for pictures of the school building work.

Click here for pictures from the Summer School fete.