LATEST NEWS FROM BARFORD ST PETER'S C of E PRIMARY SCHOOL
December 2018
We now have a new School Website giving parents constant updates on what is happening in School.
LOOKING BACK!
We had many visitors come to talk to the children about Barford in the past and would like to express our dearest thanks. Below is Joyce Perrott, with a selection of Y5 and 6 pupils. She gave a very engaging talk on how Barford school has changed over time and included details about childhood adventures and the impact it had on her own life during WWII. Thanks to Cath White for organising the visit.
REMEMBRANCE ASSEMBLY
On Friday 9th November we had a special assembly in commemoration of all soldiers and their families who have been casualties of war. Children were invited to wear their uniforms if they are a member of the Scouting or Guiding organisation. We would like to say a special thank you to Mr Hargreaves who attended our assembly and read a war poem to the pupils. Also some of our KS2 pupils read poems they had written.
RECREATING WW1 AT BARFORD ST PETER'S
As part of our autumn topics Mrs Powell, our Forest School Leader, organised some historical days for KS2. On Thursday 8th November Years 5 and 6 were transported back into the years between 1914 -18 to discover what it was like to live in Britain during the First World War
SHOWCASING THE BARFORD AND BEYOND PROJECT
On Friday 9th November we concluded the Barford and Beyond Project with an exhibition to showcase the work that has been undertaken by the whole school.
We would like to say a huge thank you to all the children who made the artefacts, to the teachers for organising this wonderful event and to the many visitors who took time to come into school.
Thank you!
Best wishes from Staff and Pupils.
---
SCHOOL GETS SUPPORT TO IMPROVE ITS TRAVEL PLAN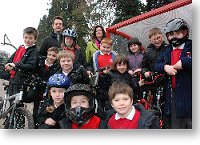 Pupils and staff at Barford St. Peter's Church of England Primary School were celebrating recently when a new bike rack was installed to improve the storage facilities for children cycling to school.
The school received a grant from Warwickshire County Council to actively promote cycling to school and to endorse safer and greener travel as part of the travel plan. Barford have also introduced a system where parents and children sign up for a "cycle permit" administered by staff.
The project was generously supported by Morrison Construction part of the Galliford Try group who provided both materials and labour enabling the school to have these new cycle racks installed.
Head teacher Mrs Annette Delaney said, "We are extremely pleased that our children can be encouraged to use their bikes safely on the way to and from school. As a village school it is extremely important that we encourage safe and healthy forms of travelling. These superb facilities will help to keep the children's bikes secure when they are in school. It would not have been possible without the support from WCC and Morrison Construction. We have already started to put the racks to good use".
---
MUSICAL TALENTS FROM PAST AND PRESENT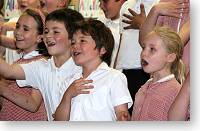 The village of Barford was treated to an evening of musical entertainment on a night to remember when 16 acts took the stage .The event , "Barford School Music Evening" saw a packed school hall with villagers , parents and friends attending an evening soiree in the school which took months of dedicated preparation .
Over 50 children , past and present pupils of Barford St Peter's C.E. (V.A) Primary took part. The line up included a wide range of performances including sax, clarinet , piano and violin fanfares and plenty of singing.
The evening was the culmination of detailed planning all carefully put together by music teacher Mrs Joyce Lewis and her team , supported by the school FABS committee. Commenting on the play to the 150 string audience Head Teacher Mrs. Annette Delaney said " This was a wonderful evening for all of us to remember. We are extremely proud to have such fantastic mix of musical talents in our school and it is great that past pupils were able to come along and perform for us. The school is committed to the teaching of music and it is lovely to see and hear it all come together in this way."
The finale was a performance of three pieces played by The Royal Spa Brass Ensemble , which included one of the parents. Not only was this a truly wonderful event it also raised money towards school funds.
---
Don't forget to collect tokens - we collect tokens from Sainsbury's, Tesco, The Times and Nestle Cereals. Now these can be left at the Village Shop if you don't have a child at the school. Click for more details.
Click here for pictures of the school building work.

Click here for pictures from the Summer School fete.