LATEST NEWS FROM BARFORD ST PETER'S C of E PRIMARY SCHOOL
June 2019
We now have a School Website giving parents constant updates on what is happening in School.
At Barford, the summer term is always really exciting as we look forward to national tests finishing, getting outside onto the field, sports day and of course the KS2 production.
THE HEWITT FAMILY
On Monday 29 th April, Wendy Barlow and Anne McDermott, members of the Heritage Group, led morning assembly and told the children about the Hewitt family and why they are so important to Barford St Peter's School. We then took some primroses to place on Harriet Hewitt's grave.
BARFORD ECO COUNCIL EARN SILVER AWARD
We are delighted to announce that our Eco Council, who do an amazing job promoting a healthy school, achieved the Silver Award. They are already looking at working towards Gold. Fantastic news children!
EASTER CHURCH SERVICE
We held our Easter Service on Friday 12th April in St Peter's Church. All classes participated in the service and retold the Easter Story through song, drama and narration. It was really lovely that so many parents, carers and friends could join us!
FABS EASTER COMPETITION
It was wonderful seeing so many children carrying cakes into school on Friday 12th April, for the FABS 'Easter Cake Competition'. Mrs Hancock had an immensely difficult job judging them.
The cakes were sold at the end of the day during the Egg Hunt to raise money for school funds
RECEPTION AND FOREST FRIDAY
On Friday 3rd May Reception had a wonderful day in Base Camp, working with Mrs Powell and Mrs Garner.
MENTAL MATHS SHOOTOUT!
On Thursday 28th March we held our spring term 'Mental Maths Shootout'. It was so exciting! As always, staff and pupils were on the edge of their seats. The children's accuracy and speed was simply amazing. It really is the most wonderful skill to be able to perform in front of the whole school and not lose concentration.
They undertook a variety of activities including making a wattle and daub panel for the fence. They also made a crown from natural resources and some mud bricks. The day concluded with a bonfire, toasted marsh-mallows and hot chocolate. We would like to say thank you to the parent helpers and to Mrs Powell for planning the day. Also, once again we couldn't believe how lucky we were with the weather.
Best wishes from Staff and Pupils.
---
SCHOOL GETS SUPPORT TO IMPROVE ITS TRAVEL PLAN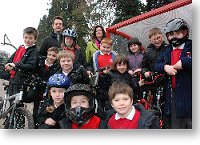 Pupils and staff at Barford St. Peter's Church of England Primary School were celebrating recently when a new bike rack was installed to improve the storage facilities for children cycling to school.
The school received a grant from Warwickshire County Council to actively promote cycling to school and to endorse safer and greener travel as part of the travel plan. Barford have also introduced a system where parents and children sign up for a "cycle permit" administered by staff.
The project was generously supported by Morrison Construction part of the Galliford Try group who provided both materials and labour enabling the school to have these new cycle racks installed.
Head teacher Mrs Annette Delaney said, "We are extremely pleased that our children can be encouraged to use their bikes safely on the way to and from school. As a village school it is extremely important that we encourage safe and healthy forms of travelling. These superb facilities will help to keep the children's bikes secure when they are in school. It would not have been possible without the support from WCC and Morrison Construction. We have already started to put the racks to good use".
---
MUSICAL TALENTS FROM PAST AND PRESENT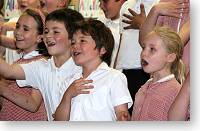 The village of Barford was treated to an evening of musical entertainment on a night to remember when 16 acts took the stage .The event , "Barford School Music Evening" saw a packed school hall with villagers , parents and friends attending an evening soiree in the school which took months of dedicated preparation .
Over 50 children , past and present pupils of Barford St Peter's C.E. (V.A) Primary took part. The line up included a wide range of performances including sax, clarinet , piano and violin fanfares and plenty of singing.
The evening was the culmination of detailed planning all carefully put together by music teacher Mrs Joyce Lewis and her team , supported by the school FABS committee. Commenting on the play to the 150 string audience Head Teacher Mrs. Annette Delaney said " This was a wonderful evening for all of us to remember. We are extremely proud to have such fantastic mix of musical talents in our school and it is great that past pupils were able to come along and perform for us. The school is committed to the teaching of music and it is lovely to see and hear it all come together in this way."
The finale was a performance of three pieces played by The Royal Spa Brass Ensemble , which included one of the parents. Not only was this a truly wonderful event it also raised money towards school funds.
---
Don't forget to collect tokens - we collect tokens from Sainsbury's, Tesco, The Times and Nestle Cereals. Now these can be left at the Village Shop if you don't have a child at the school. Click for more details.
Click here for pictures of the school building work.

Click here for pictures from the Summer School fete.