Art Group
Cycling Group
Drama Group
Footpath Group
Ladies Guild
Lions Club
Lost & Found
Memorial Hall
Mother's Union
Neighb'd Plan
Neighb'd Watch
Oakley Wood
Parish Council
Playgroup
Pre-School
Residents Ass'n
School
Scouts & Guides
Village Directory
Village Shop
Womens Institute

List of councillors

Meeting dates
Meeting minutes

Audit of accounts

Commentary on activity in our three parishes and may also contain information, which has not yet passed before the full JPC, in which electors may have an interest, all written from the perspective of the JPC, responsible to all three parishes.
The official minutes are written by the Clerk and RFO of the Council, and are not moderated by anyone prior to their approval at a subsequent meeting. Copies of the official minutes are available on this website.

[Back to top]


---
ANNUAL PARISH MEETINGS:
Every year in April we must hold "Annual Parish Meetings" – These are your chance to hear updates and discuss matters of concern. At the time of writing Barford APM has taken place as has Sherbourne's. Frankly, in both cases, attendance by electors was disappointing, given that in each case there was a good presence of elected members and groups to share important information for our assimilation. Admittedly in Barford's case the Police, WCC and WDC reports were lengthy and in future I will ask that they are much shorter and punchier, although it can be argued that all the information about their activities is actually relevant to us all.
We were lucky to have a Police presence at both APMs so far – Sgt Chris Kitson at Barford and PC Ross Kirby at Sherbourne. The statistics continue to show that we are very low crime areas, but they also show that some crime is still happening in our parishes – house burglaries/break-ins, burglaries "other" (that is gardens, sheds or commercial premises) and it is certainly not a time to relax. Thefts from vehicles is common and theft of cars is happening across the county. It is best not to leave keys on display from the outside, perhaps put them in a drawer or cupboard and if you have key-less entry and start, then consider putting them in a metal box or Faraday bag.
At Sherbourne we were pleased to report that the site of previous unauthorised encampments at the end of Watery Lane, adjacent to the A46 had been considerably improved by installation of extra fencing and new gates. Conversely we were less pleased to hear that there may be an influx of "travellers" into the area as the Kenilworth Horse Fair had been promoted but was now not likely to happen, although visitations might still be expected. Please stay alert and report anything remotely suspicious.
At Barford we also heard of the thriving allotments – both Church and JPC managed – where there had been a modest turnover of tenants and an enthusiastic bunch of newcomers was settling down well. What had been believed to have been a plague of rats had required the engagement of Pest Control Specialists who, whilst ready for a prolonged campaign, were able to promptly rid us of a single offender – animal and nature lovers working in harmony, yet again.
---
HOUSING NEEDS SURVEY :
The survey is now closed - we will report the results just as soon as they are available.
---
BARFORD BYPASS NORTHERN JUNCTION:
Following lengthy negotiations and requests it has now been agreed that WCC will devise a scheme of minor improvements using s.106 funding. There is not sufficient funding available for a major redesign, but we should expect improved signage and further refuge elements to increase safety – more news as soon as available.
---
JPC ELECTIONS :
These formally take place on Thursday May 2nd . However as there were no more nominations than the number of seats, then we have three "uncontested elections" so all nominated candidates will become our new parish councillors and make up the JPC from the JPC Annual meeting on Thursday May 23 rd .
In Barford we have 90% of the original team and are left with a single vacancy to be filled by co-option – please be in contact with me or any councillor if you are interested in joining us.
In Sherbourne Cllr Antoinette Gordon has decided to retire/stand down after 31 years of service and will be replaced by a new member Jerry Jackson.
Wasperton will continue to be represented by Mike Metcalfe, John Wright and Neil Thurley.
---
OTHER ELECTIONS! :
District Council elections are held every four years and will be held on Thursday May 2nd and also, at the time of writing, we have been asked to make our halls available for possible European Elections on May 23rd , so please note the relocation of the JPC meeting to Barford Scout Hut to permit this.
Whatever your views are on Brexit and everything else, local and national, please use your vote, it's your big chance to influence things.
---
EMAIL UPDATES :
We can often send out timely reminders, updates and notices direct to your email in boxes. If you do not already receive these AND WOULD LIKE TO DO SO please contact John Murphy so that you can be added to the circulation list.
The list will not be shared with others, will be sent out as Bcc (so not revealing your email) and will only be used for matters which should reasonably interest/ concern you.
It's free, easy and just occasionally is the only way to get urgent things out to a wider audience – and you can always hit DELETE or ask to be unsubscribed.
---
MEMBERS' ATTENDANCE RECORDS :
The Chairman of the JPC has asked that a record of JPC members' attendance be published on the website.
Click here to download record of attendance at JPC meetings in 2017/ 18 (PDF file, 15k)
---
The next JPC meeting will be held on Thursday 23rd May 2019 in the Scout Hut, Wasperton Lane, Barford at 7:30 pm.
Click here for a list of all JPC meetings in 2019.
There is a session for " Public Participation "early in the agenda after our essential housekeeping matters which must as a matter of legality take priority. "Public Participation" is a short period (4 minutes maximum per person) when we are happy to hear and note your concerns or questions. No special presentational skills are needed and councillors will hear you in an informal and welcoming way. We are always pleased to have matters and opinions brought to our attention. We cannot usually enter into detailed discussion with the public at the time but if possible may be able to supply an immediate answer, OR will decide, at a later time or date, whether and what action may be appropriate.
Alternatively, if you do not wish to attend in person, you may submit "your views" for formal attention of the JPC to yourviews@barford.org.uk and the matter will be taken to the next JPC meeting and you will get a formal response.
An agenda for each meeting will be posted in advance on all the village notice boards. Residents are also encouraged to email myself (see below), or contact any of the Parish Councillors or the Clerk, James Johnson.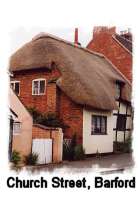 Click on the links to the left for a full list of councillors and a calendar of future meetings.
Minutes of previous council meetings, planning committee meetings and other JPC documents are also available from this page.