Art Group
Cycling Group
Drama Group
Footpath Group
Ladies Guild
Lions Club
Lost & Found
Memorial Hall
Mother's Union
Neighb'd Plan
Neighb'd Watch
Oakley Wood
Parish Council
Playgroup
Pre-School
Residents Ass'n
School
Scouts & Guides
Village Directory
Village Shop
Womens Institute

List of councillors

Meeting dates
Meeting minutes

Audit of accounts

Commentary on activity in our three parishes and may also contain information, which has not yet passed before the full JPC, in which electors may have an interest, all written from the perspective of the JPC, responsible to all three parishes.
The official minutes are written by the Clerk and RFO of the Council, and are not moderated by anyone prior to their approval at a subsequent meeting. Copies of the official minutes are available on this website.

[Back to top]


---
I tried last month to provide some clarification on the different categories of housing, recognising that the definitions appear to vary according to exactly who one asks, where and when! See below some further information, added in underlined italics, gleaned since the last edition which may enlighten us a little more.

Market Homes – available for sale to anyone, at normal local market value.
Affordable Homes – Usually built alongside Market Homes which are used to cross-subsidise them and hence reduce their prices to between 60-80% of market value, either for rental or shared ownership. WDC aims at a 40% provision on larger sites. Occasionally built alone by councils or Housing Associations, e.g. at Westham Lane, Barford. Some economic criteria applied to eligibility.
Shared Ownership – Part rental, part purchase Affordable Homes – the mix varies but the aim is to allow the tenant to build some equity in the property market. Some economic criteria applied to access.
Social Rented – Significantly subsidised rental homes, at 40% of market rates, with strict eligibility criteria administered by WDC
The JPC will continue to consider the results of the survey and will also use the results to inform any response to any further Planning Applications.
Please note that the above are not official definitions but my latest local take on the situation. If others have more information or have differing experiences then please let us know.
---
PEDESTRIAN CROSSINGS :
WCC have recently confirmed the intention to remove the Bridge Street light controlled Puffin crossing, to be replaced by a "new uncontrolled crossing consisting of dropped kerbs and tactile paving only". That is now out for consultation until 2nd August with full details at www.warwickshire.gov.uk/trafficsignals and any comments should be sent to gafoordin@warwickshire.gov.uk.
The JPC had requested Cllr Caborn to press WCC to consider the provision of a new crossing further south to serve these new properties and enhance safety on what remains a busy through route. The response reported was that pedestrian numbers recently surveyed did not support the automatic provision of such a facility. The JPC has requested further detail of how and why we fail to meet the criteria given that we have recently built approximately 200 houses across the main Wellesbourne Road away from all the village facilities. We await a full explanation.
---
PARKING :
Some of the parking behaviour in our village is shocking! – particularly near the church and school, and it really does increase the danger for all concerned. The Church Lane/ Church Street/ War Memorial junction is the worst. Car frequently park on the white carriageway/ corner lines and often overhang the junction itself. The Highway Code is clear that you should not park close to corners and the white lines are there to guide you. Recent deployment of POLICE cones in that area seems to have helped and reminded folk and we have had much better visibility at what is a surprisingly busy location – Please let's keep it up and keep everyone safe.
Other places where the parking is frequently poor is around the Memorial Hall and shop, at the junction of Wasperton Lane and Wellesbourne Road, in Mill Lane and on Wellesbourne Road near Bremridge Close. Come on we can do better than this!
---
BUSY BEES:
Working with Warwick & Leamington Beekeepers we are hoping that we will soon have 6-10 bee hives located on the Oldhams Bank Riverside Walk. These will not restrict public access in any way and will help support the bee population and act as important pollinators for our orchard and much of the surrounding area, travelling up to three miles. There should be no downsides to our accommodating bees and they are not naturally aggressive – unless provoked – so nothing to fear.
---
EMAIL UPDATES :
We can often send out timely reminders, updates and notices direct to your email in boxes. If you do not already receive these AND WOULD LIKE TO DO SO please contact John Murphy so that you can be added to the circulation list.
The list will not be shared with others, will be sent out as Bcc (so not revealing your email) and will only be used for matters which should reasonably interest/ concern you.
It's free, easy and just occasionally is the only way to get urgent things out to a wider audience – and you can always hit DELETE or ask to be unsubscribed.
---
MEMBERS' ATTENDANCE RECORDS :
The Chairman of the JPC has asked that a record of JPC members' attendance be published on the website.
Click here to download record of attendance at JPC meetings in 2017/ 18 (PDF file, 15k)
---
The next JPC meeting will be held on Monday 9th September in Barford Memorial Hall at 7:30 pm.
Click here for Notices of JPC and Planning Committee meetings, and the Minutes of previous meetings.
Click here for a list of all JPC meetings in 2019.
There is a session for " Public Participation "early in the agenda after our essential housekeeping matters which must as a matter of legality take priority. "Public Participation" is a short period (4 minutes maximum per person) when we are happy to hear and note your concerns or questions. No special presentational skills are needed and councillors will hear you in an informal and welcoming way. We are always pleased to have matters and opinions brought to our attention. We cannot usually enter into detailed discussion with the public at the time but if possible may be able to supply an immediate answer, OR will decide, at a later time or date, whether and what action may be appropriate.
Alternatively, if you do not wish to attend in person, you may submit "your views" for formal attention of the JPC to yourviews@barford.org.uk and the matter will be taken to the next JPC meeting and you will get a formal response.
An agenda for each meeting will be posted in advance on all the village notice boards. Residents are also encouraged to email myself (see below), or contact any of the Parish Councillors or the Clerk, James Johnson.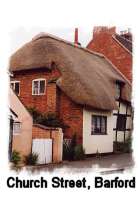 Click on the links to the left for a full list of councillors and a calendar of future meetings.
Minutes of previous council meetings, planning committee meetings and other JPC documents are also available from this page.