Art Group
Cycling Group
Drama Group
Footpath Group
Ladies Guild
Lions Club
Lost & Found
Memorial Hall
Mother's Union
Neighb'd Plan
Neighb'd Watch
Oakley Wood
Parish Council
Playgroup
Pre-School
Residents Ass'n
School
Scouts & Guides
Village Directory
Village Shop
Womens Institute

List of councillors

Meeting dates
Meeting minutes

Audit of accounts

Commentary on activity in our three parishes and may also contain information, which has not yet passed before the full JPC, in which electors may have an interest, all written from the perspective of the JPC, responsible to all three parishes.
The official minutes are written by the Clerk and RFO of the Council, and are not moderated by anyone prior to their approval at a subsequent meeting. Copies of the official minutes are available on this website.

[Back to top]


---
VILLAGE VOICES :
At the November JPC meeting, councillors were unanimous and fulsome in their praise for the new magazine and the success of getting it free of charge into every home in the three parishes.
Having made a contribution of £1,100 towards costs to ensure the successful launch, the JPC agreed to contribute £3,000 towards costs in the coming financial year and we all look forward to the increasing success of the publication. …
---
WESTHAM LANE :
There has now been an initial approach from planners and developers to start dialogue with the JPC although no meetings or discussions have yet occurred. More news as we learn more.
---
MCDONALDS 24HR RESTAURANT AND DRIVE-THRU :
Planning Applications W/19/1473, W/19/1494 and W/19/1492 propose to upgrade the old Harvester restaurant at Longbridge to a 24/7 McDonalds – details at https://planningdocuments.warwickdc.gov.uk/online-applications/ and search for the reference above.

Well done those of you who submitted comments objecting to the proposals. Objections are now well into three figures and still coming in although technically the deadline has been reached.
The application is due to be determined by November 25th.
---
PEDESTRIAN CROSSING WELLESBOURNE ROAD :
WCC officers are still looking at the possibilities of a standard pedestrian crossing – non-light controlled – and will be carrying out camera studies to measure the amount of use it would expect.
If a crossing is justified by the numbers then the cost is likely to be about £25,000, hopefully to be fully funded by WCC.
---
OPERATION SNAP :
Report poor driving/dangerous behaviour. As part of Op Snap, members of the public can submit online forms containing digital footage or photographs showing potential traffic offences. This could be driving dangerously, overtaking on solid lines, driving whilst on a mobile phone, ignoring traffic lights, and driving without consideration for other road users such as cyclists or horses.
This service can also be used to report unsafe or illegal parking near to schools.
See the below link to get started: https://www.warwickshire.police.uk/operationsnap
---
BARFORD BYPASS – NORTHERN JUNCTION :
Plans are now well advanced to improve the safety by improvements to signage and the provision of an extra refuge nearer the junction, which should prevent the current temptation for following vehicles to pull out and overtake those that are turning left towards Barford village.
We have been unable to negotiate a long continuous central reservation due to drainage complications, however it is believed the proposal will be effective in slowing the traffic and also stopping overtaking at that point.
Disappointingly it will not ease the difficulty of leaving the village at peak times and drivers will still have to be very patient and exercise caution.

The desired solution at that site would always be either a roundabout or traffic lights; however lack of space and funding pre-empt those options at present.
---
COMING SOON – THE JOINT STRATEGIC NEEDS ASSESSMENT :
Basically an opportunity to feedback information that will give indication of our social, health, and economic wellbeing on an area by area basis.
It sounds like just another survey but will provide great insight into our local situation and importantly will drive funding and service provision which might otherwise be less well provided for. Once completed the information will be freely available to give clear metrics and indications of needs across all the various services.
Residents will be invited to complete questionnaires and also attend presentations and drop-ins where there will be more explanation and data can be gathered. The survey will run into the New Year and results will be available soon after.
---
EMAIL UPDATES :
We can often send out timely reminders, updates and notices direct to your email in boxes. If you do not already receive these AND WOULD LIKE TO DO SO please contact John Murphy so that you can be added to the circulation list.
The list will not be shared with others, will be sent out as Bcc (so not revealing your email) and will only be used for matters which should reasonably interest/ concern you.
It's free, easy and just occasionally is the only way to get urgent things out to a wider audience – and you can always hit DELETE or ask to be unsubscribed.
---
MEMBERS' ATTENDANCE RECORDS :
The Chairman of the JPC has asked that a record of JPC members' attendance be published on the website.
Click here to download record of attendance at JPC meetings in 2017/ 18 (PDF file, 15k)
---
The next JPC meeting will be held on Monday 13th January in Barford Memorial Hall at 7:30 pm.
Click here for Notices of JPC and Planning Committee meetings, and the Minutes of previous meetings.
Click here for a list of all JPC meetings in 2019/ 20.
There is a session for " Public Participation "early in the agenda after our essential housekeeping matters which must as a matter of legality take priority. "Public Participation" is a short period (4 minutes maximum per person) when we are happy to hear and note your concerns or questions. No special presentational skills are needed and councillors will hear you in an informal and welcoming way. We are always pleased to have matters and opinions brought to our attention. We cannot usually enter into detailed discussion with the public at the time but if possible may be able to supply an immediate answer, OR will decide, at a later time or date, whether and what action may be appropriate.
Alternatively, if you do not wish to attend in person, you may submit "your views" for formal attention of the JPC to yourviews@barford.org.uk and the matter will be taken to the next JPC meeting and you will get a formal response.
An agenda for each meeting will be posted in advance on all the village notice boards. Residents are also encouraged to email myself (see below), or contact any of the Parish Councillors or the Clerk, James Johnson.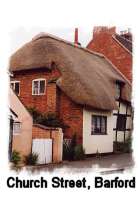 Click on the links to the left for a full list of councillors and a calendar of future meetings.
Minutes of previous council meetings, planning committee meetings and other JPC documents are also available from this page.