Art Group
Cycling Group
Drama Group
Footpath Group
Ladies Guild
Lions Club
Lost & Found
Memorial Hall
Mother's Union
Neighb'd Plan
Neighb'd Watch
Oakley Wood
Parish Council
Playgroup
Pre-School
Residents Ass'n
School
Scouts & Guides
Village Directory
Village Shop
Womens Institute

List of councillors

Meeting dates
Meeting minutes

Audit of accounts

Commentary on activity in our three parishes and may also contain information, which has not yet passed before the full JPC, in which electors may have an interest, all written from the perspective of the JPC, responsible to all three parishes.
The official minutes are written by the Clerk and RFO of the Council, and are not moderated by anyone prior to their approval at a subsequent meeting. Copies of the official minutes are available on this website.

[Back to top]


---
MRS ANTOINETTE GORDON :
At the January JPC meeting, the chairman announced the death in December of Mrs Antoinette Gordon who had served Sherbourne and the JPC for over thirty years; in addition to also being a County Councillor for Sherbourne for part of that time.
She had an enormous involvement in the earlier Sand and Gravel campaign and took great interest in all environmental, planning and heritage matters.
Whilst her views did not always align with all members, she often brought a challenge and rigour to debates that has sometimes been absent since her retirement.
---
WASPERTON BUS SHELTER :
On the evening of December 19th the bus shelter on the A429 was completely demolished by a vehicle, presumably an HGV, and debris on the road caused damage to several other vehicles. Police are fully aware of the incident and the shelter, the property of the JPC, is fully insured for replacement value.
At the January JPC there was a debate on how to proceed and it was determined to replace the shelter on a like-for-like basis at a cost of approximately £9000, work to be instructed as soon as we have insurance clearance.
---
ALLOTMENT PATH :
The allotment path alongside the spinney has come in for some direct complaints and also criticism via Facebook.
For various reasons it has not been easy to keep the path as clear of leaves as we would like and the wet weather has caused them to be mushed down to mud which is messy and potentially slippery. Prior to KGF being redeveloped that area of the Public Footpath would be regularly sodden with deep mud and the main track would be just puddles and potholes.
Some scraping and clearance has now been undertaken by the KGF volunteers and the situation is somewhat drier but not yet ideal.
In the longer term it is intended to get that part of the footpath fully surfaced with adjacent drainage and improved fencing. We have already accrued some s.106 monies towards the project but will need to find more.
---
WESTHAM LANE :
Colloquially named "Bremridge 3". There has now been an initial briefing of the JPC Chair and Vice-Chair by Cameron Homes and this has been followed by their private consultation on the site, prior to making any formal planning application.
In brief outline, they are proposing approximately 41 new homes with 9-10 accessed off Westham Lane and the remainder accessed through Bremridge Close as detailed in the consultation document which should have gone through every Barford door. If you have not received the document then please let us know as proper engagement with the parish is important.
The proposal includes no vehicular access from the Bremridge side through to Westham Lane (and vice versa) other than for emergency vehicles.
The JPC was surprised to realise that WDC had extended Barford's Village Envelope as far as the bypass and hence including this site, which might suggest that Planning Permission would be granted, subject to all other variables.
Our District Councillor Alan Rhead has advised that unlike H48 (the second paddock of Bremridge 2/Avonbridge Walk) the Cameron site is not an "Allocated Site" under the WDC Local Plan and as such will be resisted, but subject to challenge.
Cameron Homes advise that they are considering widening Westham Lane to accommodate the increased traffic that will be generated, both during and after construction. Homes closest to the bypass will require mitigation for noise internally and this would be controlled by Planning Conditions.
Meanwhile given the close relationship between Cameron Homes and Taylor Wimpey, residents have, given the experience with Bremridge 2, already expressed considerable concern about operating practices and compliance with conditions which might be expected.
By the time that you read this the Cameron Homes consultation will have formally closed (January 19th) but if you have views these can still be submitted to Cerda Planning, Vesey House, 5-7 High Street, Sutton Coldfield, B72 1XH. A formal planning application is anticipated in Spring 2020 and construction planned for 2021.
---
MCDONALD'S 24 HOUR RESTAURANT AND DRIVE THRU:
Planning Applications W/19/1473, W/19/1494 and W/19/1492 on Stratford Road adjacent to J15.
The applications were due to be determined by the end of November, however at the time of writing no decision had been reached.
---
PEDESTRIAN CROSSING, WELLESBOURNE ROAD :
WCC officers are still looking at the possibilities of a standard pedestrian crossing – non-light controlled – and this is now being costed. Whilst there is currently no WCC funding available for such a facility we may be able to find alternative sources?
---
JOINT STRATEGIC NEEDS ASSESSMENT :
JPC members will attend a formal meeting to launch the scheme locally and full details will hopefully be available for or by the next edition. When you are invited to participate please give it your full consideration as importantly it will drive funding and service provision which might otherwise be less well provided for. It's coming soon…
---
EMAIL UPDATES :
We can often send out timely reminders, updates and notices direct to your email in boxes. If you do not already receive these AND WOULD LIKE TO DO SO please contact John Murphy so that you can be added to the circulation list.
The list will not be shared with others, will be sent out as Bcc (so not revealing your email) and will only be used for matters which should reasonably interest/ concern you.
It's free, easy and just occasionally is the only way to get urgent things out to a wider audience – and you can always hit DELETE or ask to be unsubscribed.
---
MEMBERS' ATTENDANCE RECORDS :
The Chairman of the JPC has asked that a record of JPC members' attendance be published on the website.
Click here to download record of attendance at JPC meetings in 2017/ 18 (PDF file, 15k)
---
The next JPC meeting will be held on Monday 10th February in Sherbourne Village Hall at 7:30 pm.
Click here for Notices of JPC and Planning Committee meetings, and the Minutes of previous meetings.
Click here for a list of all JPC meetings in 2019/ 20.
There is a session for " Public Participation "early in the agenda after our essential housekeeping matters which must as a matter of legality take priority. "Public Participation" is a short period (4 minutes maximum per person) when we are happy to hear and note your concerns or questions. No special presentational skills are needed and councillors will hear you in an informal and welcoming way. We are always pleased to have matters and opinions brought to our attention. We cannot usually enter into detailed discussion with the public at the time but if possible may be able to supply an immediate answer, OR will decide, at a later time or date, whether and what action may be appropriate.
Alternatively, if you do not wish to attend in person, you may submit "your views" for formal attention of the JPC to yourviews@barford.org.uk and the matter will be taken to the next JPC meeting and you will get a formal response.
An agenda for each meeting will be posted in advance on all the village notice boards. Residents are also encouraged to email myself (see below), or contact any of the Parish Councillors or the Clerk, James Johnson.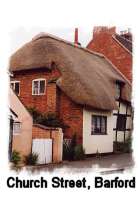 Click on the links to the left for a full list of councillors and a calendar of future meetings.
Minutes of previous council meetings, planning committee meetings and other JPC documents are also available from this page.