Art Group
Cycling Group
Drama Group
Footpath Group
Ladies Guild
Lions Club
Lost & Found
Memorial Hall
Mother's Union
Neighb'd Plan
Neighb'd Watch
Oakley Wood
Parish Council
Playgroup
Pre-School
Residents Ass'n
School
Scouts & Guides
Village Directory
Village Shop
Womens Institute

List of councillors

Meeting dates
Meeting minutes

Audit of accounts

Commentary on activity in our three parishes and may also contain information, which has not yet passed before the full JPC, in which electors may have an interest, all written from the perspective of the JPC, responsible to all three parishes.
The official minutes are written by the Clerk and RFO of the Council, and are not moderated by anyone prior to their approval at a subsequent meeting. Copies of the official minutes are available on this website.

[Back to top]


---
PEDESTRIAN CROSSINGS :
No further news as we wait to see if WCC can stretch to providing a zebra crossing (non-traffic light controlled) on Wellesbourne Road as a more economic and affordable option to accommodate the increasing numbers of residents on the western side of the village.
---
BARFORD BYPASS IMPROVEMENTS AND 50 MPH LIMITS :
The sharp eyed amongst you will have noticed the legal notices going up indicating the start of the process of getting improvements in place. The improvements will include an extended solid island on the northern A429 approach to the northern Barford Bypass junction and the extension of the 50mph limit throughout our parishes and hopefully to Wellesbourne. The timescale for the project is currently unclear but is likely to take a further 6-12 months. Watch for more detail when we are advised.
---
LAND AROUND BARFORD HOUSE:
Well, no further news on this at present. We know that the developers (and operators) have gone away to consider their position following what was a very mixed reception at their exhibition.
Given the very obvious conflicts between BNDP Policy B3 (Housing for the aged/infirm/disabled) and other parts of the plan the developers are hoping, and indeed need, to get a clear signal of support from the community if they are to stand any chance of getting such a project through the planning process. This will be pure NPPF (National Planning Policy Framework) and will be a big debate about the benefits and disadvantages and will require the community, or at least the JPC, to consider over-riding parts of the BNDP in favour of such a scheme.
Given the lack of detail in the project as presented at the exhibition, most respondents offered concept support or made simple points on details. Predictably most objections came from properties which will clearly be impacted by the scheme.
Whilst the proposal is a Barford only issue at present and has not been brought before the JPC (it is not yet an actual application) if residents have specific queries on process or comments on the details so far then feel free to submit them to the email(s) below. If we can answer process questions then we will. We are unlikely to respond to comments but will simply keep them on file for future reference, as any further proposals may differ significantly.

Click here to download exhibition display boards
---
PARKING IN CHURCH LANE:
Another busy summer at KGF is nearly over, but still the visitors come. Regular and/or continual deployment of cones has "helped" people to park sensibly, considerately and safely, but the cones are unsightly, constantly interfered with, moved, stolen and run over.
A recent meeting with WCC Cllr Les Caborn suggests that following our request the WCC officer is now more sympathetic to our cause and may sanction, and even fund, the provision of yellow lines on both sides of Church Lane from Church Street as far as the rear church gate. This would greatly assist us in avoiding parking chaos and danger at the junction with Church Street and also keep Church Lane clear for essential traffic. Additionally it would also relieve us of the duties of deploying and monitoring the cones…
---
EMAIL UPDATES :
We can often send out timely reminders, updates and notices direct to your email in boxes. If you do not already receive these AND WOULD LIKE TO DO SO please contact John Murphy so that you can be added to the circulation list.
The list will not be shared with others, will be sent out as Bcc (so not revealing your email) and will only be used for matters which should reasonably interest/ concern you.
It's free, easy and just occasionally is the only way to get urgent things out to a wider audience – and you can always hit DELETE or ask to be unsubscribed.
---
MEMBERS' ATTENDANCE RECORDS :
The Chairman of the JPC has asked that a record of JPC members' attendance be published on the website.
Click here to download record of attendance at JPC meetings in 2017/ 18 (PDF file, 15k)
---
The next JPC meeting will be held on Monday 14th October in Sherbourne Village Hall at 7:30 pm.
Click here for Notices of JPC and Planning Committee meetings, and the Minutes of previous meetings.
Click here for a list of all JPC meetings in 2019.
There is a session for " Public Participation "early in the agenda after our essential housekeeping matters which must as a matter of legality take priority. "Public Participation" is a short period (4 minutes maximum per person) when we are happy to hear and note your concerns or questions. No special presentational skills are needed and councillors will hear you in an informal and welcoming way. We are always pleased to have matters and opinions brought to our attention. We cannot usually enter into detailed discussion with the public at the time but if possible may be able to supply an immediate answer, OR will decide, at a later time or date, whether and what action may be appropriate.
Alternatively, if you do not wish to attend in person, you may submit "your views" for formal attention of the JPC to yourviews@barford.org.uk and the matter will be taken to the next JPC meeting and you will get a formal response.
An agenda for each meeting will be posted in advance on all the village notice boards. Residents are also encouraged to email myself (see below), or contact any of the Parish Councillors or the Clerk, James Johnson.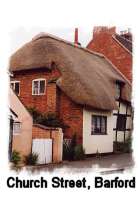 Click on the links to the left for a full list of councillors and a calendar of future meetings.
Minutes of previous council meetings, planning committee meetings and other JPC documents are also available from this page.